Palestinian family mourns eight relatives killed in one attack as Israeli airstrike death toll reaches 85 and their response to Hamas rockets continues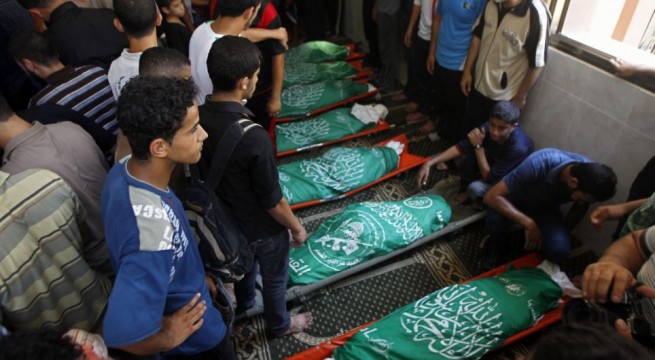 Eight members of the same family, including five children, have been killed in Israel's Gaza offensive which has claimed 85 lives since it began its retaliation for Hamas rocket attacks on Tel Aviv and other Israeli cities.
Palestinian medical officials said a strike early Thursday struck a home in the southern Gaza city of Khan Younis, killing eight members of the Al Haj family.
Earlier, at least eight others were killed when a strike hit a Gaza beach café where they were watching the World Cup semi-final match between Argentina and the Netherlands, said Mahmoud Sawali, who said he lost at least two of his brothers in the attack.
The Israeli military said it was investigating both incidents. It also said it struck a car in Gaza carrying three Islamic Jihad militants involved in firing rockets.
The militant group confirmed that its men were killed in the strike. Hamas officials said that the Palestinian side of its border crossing with Israel had also been destroyed in Israeli airstrikes.
The Israeli military has continued its aerial offensive in Hamas-dominated Gaza for a third day today while militants fired rockets at Israeli cities.
The Health Ministry in Gaza has reported 85 deaths, including 22 today. It says about half were women and children though the exact breakdown could not immediately be confirmed. A four-year-old girl and a five-year-old boy were reported to have been among those killed today.
U.N. Secretary-General Ban Ki-moon, who was due to brief the Security Council on the crisis later today, has condemned the rocket attacks and urged Israel to show restraint. He told reporters: 'Gaza is on a knife edge.'
Military spokesman Lt. Col. Peter Lerner said Israel struck more than 320 Hamas targets overnight, focusing on underground tunnel networks and rocket launching sites. That brought the total number of targets hit to 750 in three days of the offensive.
Lerner said Israel has already mobilized 20,000 reservists for a possible ground operation into Gaza, but for the time being Israel remained focused on maximizing its air campaign.
Neither side is showing any sign of halting their heaviest fighting since an eight-day battle in late 2012. Israel says that Hamas must cease rocket fire from Gaza for Israel to consider a truce.
Don't miss the stories
followIndiaVision News & Information
and let's be smart!