Palestinians clash with Israeli forces on `day of rage`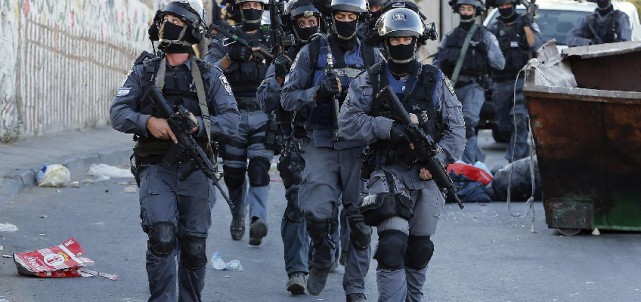 Jerusalem: Palestinians clashed on Friday with Israeli security forces in Jerusalem and the occupied West Bank after the Islamist movement Hamas called for a "day of rage" over tensions at the Al-Aqsa mosque site.In Jerusalem, three police were injured as a firebomb struck their van in the Jabal Mukaber district and eight Palestinians were arrested, including at least three youths, police said.
Police fired tear gas and rubber bullets as protesters pelted them with stones in city neighbourhoods around the Mount of Olives, including in Shuafat refugee camp.
But the situation was calm in the Old City and at the Al-Aqsa mosque compound.
Officials said about 3,000 police had deployed after three days of violence this week at the sensitive site during the Jewish new year.
A rocket fired by Palestinian militants in Gaza, which is controlled by Hamas, struck a parked bus in the southern Israeli town of Sderot without causing casualties, police said. Another rocket was intercepted by Israel`s "Iron Dome" defence system.
There was no immediate claim of responsibility for the rockets, which triggered a series of Israeli air raids on Gaza.
In the West Bank, an AFP correspondent reported that skirmishes were more intense than normal for a Friday, which has become a day of protests following weekly Muslim prayers.
At Kafr Kaddum near Nablus, Israeli fire wounded three Palestinians in their arms and legs, according to the Palestinian Red Crescent.
Youths hurled projectiles at police near Ofer prison, Qalandiya checkpoint and Jalazun refugee camp — flashpoints in the long-running conflict between Israel and the Palestinians.
The Red Crescent said a total of seven Palestinians were wounded by live fire and 44 by rubber bullets.The protesters adopted the same slogan everywhere.
"By our soul and our blood, we sacrifice ourselves for you Al-Aqsa," hundreds of them gathered in Nablus and the Gaza Strip chanted.
Known to Muslims as Al-Haram al-Sharif (the Noble Sanctuary), the compound houses the famous golden Dome of the Rock shrine and Al-Aqsa mosque.
Believed to be where the Prophet Mohammed made his night journey to heaven, it is the third-holiest site in Islam.
As the location of Judaism`s biblical temples, it is known as the Temple Mount to Jews, who are allowed to visit but cannot pray there to avoid further raising tensions.
Police had set up heavily manned checkpoints on streets leading up to the site on Friday, before an estimated 8,000-10,000 worshippers prayed, down from the average of 25,000-35,000.
"It`s a frontline," said Mazen Shawish, 52. "You have to go though 20 military checkpoints to get to the mosque."
Hundreds of young men denied entry prayed just outside the Old City walls.
Police said they had an intelligence warning that Arab youths were planning fresh confrontations and decided to keep them away by limiting the age of worshippers to 40 and above for men.
In Jordan, thousands of protesters rallied in the capital Amman and other cities to denounced Israeli "violence" at Al-Aqsa.
Israeli authorities fear further trouble ahead when the Muslim feast of Eid al-Adha coincides on Wednesday with the solemn Jewish fast of Yom Kippur.
And Jews begin their seven-day Sukkot festival the following week, one of the holidays when more Israelis than usual are likely to visit the compound.Israel seized east Jerusalem, where Al-Aqsa is located, in the 1967 Six-Day War and later annexed it in a move never recognised internationally.
It claims sovereignty over the entire city, including holy sites.
To the Palestinians, who want the mainly-Arab eastern side as their capital, the compound with its landmarks is a potent symbol of so-far unrealised statehood.
They fear Israel will seek to change rules governing the site, with far-right Jewish groups pushing for more access.
Israeli Prime Minister Benjamin Netanyahu spoke to UN chief Ban Ki-moon on Thursday night, saying the Jewish state "is strictly maintaining the status quo".
Netanyahu has publicly "declared war" on those who throw rocks and petrol bombs, especially after an Israeli motorist died last Sunday, apparently as a result of Palestinian stone-throwing, police said.
One proposal is to let snipers with low-velocity rifles operate against stone-throwers in Jerusalem, as they already do in the West Bank.
Israel`s parliament said Friday its foreign affairs and defence committee authorised a call-up of reservists from the paramilitary border police, "in response to the deteriorating security situation in Jerusalem".
It gave no details of such a mobilisation.
Don't miss the stories
followIndiaVision India News & Information
and let's be smart!