Pro-Russia group says it hacked Merkel website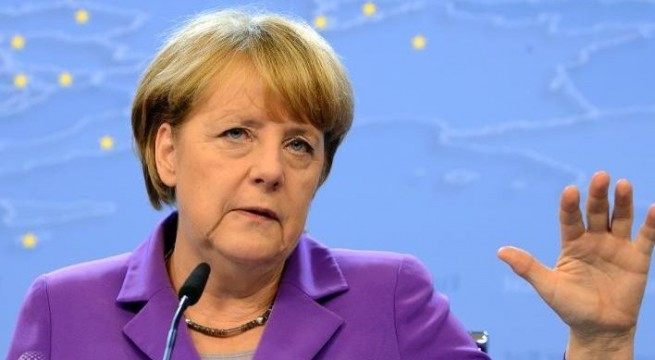 Merkel extremely dismayed over Schumacher's fall
A WEBSITE affiliated with pro-Russia hackers took responsibility for an online attack that brought down key German government websites, including that of Chancellor Angela Merkel, for several hours.
The attack came the same day that Ukrainian Prime Minister Arseniy Yatsenyuk arrived in the German capital to sign an agreement for €500 million ($733.15m) in loan guarantees to help rebuild war-torn eastern Ukraine.
Germany has been increasingly vocal in its support for the government in Kiev and critical of Russia's support of separatists fighting government troops in eastern Ukraine.
Ms Merkel said in a New Year's address that Europe wouldn't accept Russian strongarming in the region.
German officials said Ms Merkel's website,www.bundeskanzlerin.de, as well as that of the German government, the lower house of parliament, and the foreign ministry, started going down intermittently around 10am Berlin time. Those of the chancellor and the foreign ministry remained inaccessible until midafternoon, but all four were working by early evening.
"The computer centre of our service provider has been under a severe attack, apparently caused by a large number of external systems," government spokesman Steffen Seibert said. "We consider this a rather strong attack. Details aren't yet reliably known, and countermeasures are in place."
Such blocking has often done by flooding a website with incoming messages in what's known as a distributed denial-of-service attack.
Germany's Federal Office for Information Security is looking into the attack. "We don't have any new information available from where the attack comes," a spokesman for the office said.
A group of pro-Russia hackers calling itself CyberBerkut took responsibility for the attack in a notice on its website.
Berkut was the name of Ukraine's former special police force, which many pro-Western demonstrators in Kiev blamed for the deadly attack against protesters on the Ukrainian capital's Independence Square nearly a year ago.
Pro-Russia activists, mainly in Ukraine's east, have rallied behind the Berkut as a symbol of defiance against the pro-Western movement.
The hacker group, whose whereabouts is unknown, has objected to the new Ukrainian authorities. It has hacked or temporarily blocked dozens of websites in Ukraine and abroad, including the website of the Polish president, according to the group's claims.
"We address the people and the government of Germany with the demand to stop financial and political support of the criminal regime in Kiev, which unleashed the bloody civil war," CyberBerkut said in a note on their website yesterday. The website was referring to the violent clashes in eastern Ukraine, where the armed conflict between government forces and pro-Russia insurgents has claimed more than 4700 lives since April.
The hacker group has also released documents it said included private email exchanges between Ukrainian officials, and papers on military cooperation between the US and Ukraine.
CyberBerkut didn't respond to requests to comment.
The hacking took also place as Ukraine's economics and finance ministers as well as the German deputy economics minister signed a political agreement in Berlin on Wednesday afternoon in which Germany pledged to guarantee €500m in loans for Ukrainian projects that have yet to be outlined.
"Specific projects have yet to be defined and the goal is that the German government guarantees the loan if the project or the investment is seen as worthy of support," said German economics ministry spokeswoman Beate Braams. Ms Merkel had promised such loan guarantees on August 23, when she met Ukrainian President Petro Poroshenko in Kiev.
Don't miss the stories
followIndiaVision India News & Information
and let's be smart!