Russia issues grim warning to Ukraine over rebel crackdown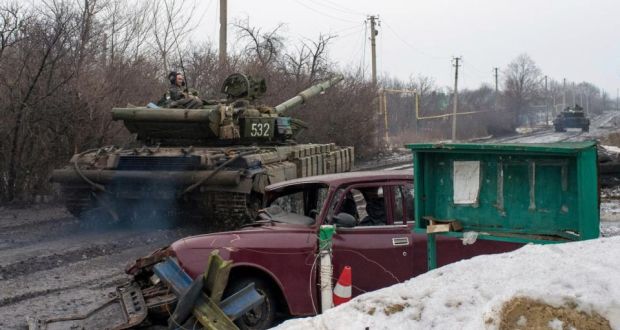 Ukraine has accused Moscow of sending more troops and armour into the country to support separatist rebels, as Russia warned Kiev that its campaign against the militants was a grave error that could have "irreversible consequences".
Fighting at Donetsk airport and elsewhere in eastern Ukraine has intensified sharply in the last week, just as bellicose rhetoric between Kiev and Moscow has increased and hopes for a diplomatic solution to the conflict have dwindled.Ukrainian prime minister Arseniy Yatsenyuk said last night that the country's intelligence services had detected Russian military personnel and equipment crossing the border into eastern areas controlled by pro-Moscow insurgents.
Kiev, the United States and Nato have made such claims frequently since Ukraine's forces launched "anti-terrorist" operations against the rebels last April, but Moscow denies the allegations and insists that any of its citizens fighting in Ukraine are volunteers.
Fierce clashes continued yesterday around Donetsk airport, a now-ruined complex on the edge of the rebel-held city, which has taken on major symbolic value for both warring sides and is the site of the most intense fighting of the conflict.
An apparent push by the insurgents to take the whole facility late last week was thwarted by Ukrainian troops, who then launched a counter-attack, in a serious escalation of a conflict that has killed more than 4,800 people. Shells struck a hospital and university in Donetsk yesterday, injuring several people.
"It is the biggest, even strategic, mistake of the Ukrainian authorities to rely on a military solution to the crisis," said Grigory Karasin, Russia's deputy foreign minister. "This can lead to irreversible consequences for Ukrainian statehood."
After the Kremlin claimed that Ukrainian president Petro Poroshenko had snubbed a peace plan offered last week by Russian leader Vladimir Putin, Kiev said yesterday it was ready for an immediate ceasefire if the rebels halted hostilities. "Ukraine has offered Russia immediate ceasefire," Ukraine's foreign minister Pavlo Klimkin wrote on Twitter. "We are ready to work with Russia to ensure ceasefire and full implementation of the provisions of Minsk agreements," he added, referring to a shaky September deal that is still seen as the best hope for peace.
Kiev accuses Moscow of breaching the pact by continuing to arm the rebels and failing to seal its border. However, Russia and the militants accuse Ukraine of breaking various pledges and preparing for all-out war. The sides also disagree on who should control Donetsk airport under the terms of the Minsk deal.
Both sides claimed to control most of Donetsk airport yesterday, and casualty figures vary wildly, with Ukraine's military saying that three soldiers had been killed and 66 wounded in the previous 24 hours while the rebels stated that more than 200 of Kiev's servicemen had died in and around the airport.
After a meeting of EU foreign ministers yesterday, the bloc's foreign policy chief Federica Mogherini said there could be a "strategic debate" on its relations with Russia but there "is no normalisation, there is no back to business as usual".
Don't miss the stories
followIndiaVision India News & Information
and let's be smart!