Syria Geneva II: UN to hold talks with rival groups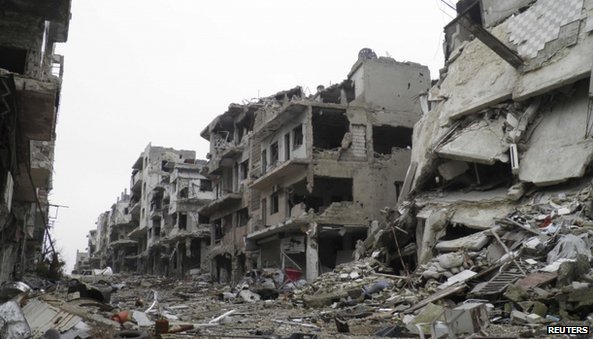 UN mediator for Syrian peace talks Lakhdar Brahimi is to hold separate talks with rival delegations to assess their willingness to meet together.
The behind-the-scenes negotiations follow the first day of a major peace conference in Switzerland which ended in bitter divisions.
Mr Brahimi's initiative takes place before full talks resume on Friday.
It remains unclear whether the two sides will negotiate face-to-face – as planned by the UN – when talks restart.
The BBC's diplomatic correspondent Bridget Kendall says that while the peace process may have got off to a rocky start in Montreux – with heated disagreements on Wednesday – at least neither of the two rival delegations from the government and the opposition walked out.
The level of destruction in the besieged area of Homs clearly illustrates the need for fighting in Syria to stop
The aim of the talks is to bring an end to the suffering of the Syrian people – people living in this area of Homs say that 300 children have gone without education for two years
Among the problems faced by those trying to advance the peace process is a disconnect between opposition groups attending and rebels groups on the ground
The UN special envoy Lakhdar Brahimi (left) is not sure he will get the two sides to talk face to face as planned on Friday
And both say they will come to the UN brokered talks due to begin in Geneva on Friday.
But our correspondent says that how those talks will work is still is not certain.
Mr Brahimi has revealed that he still does not know if the two sides are even prepared to sit in the same room.
He intends to consult them separately on Thursday to gauge what is possible.
"What we will try to do is talk about how to end this bloody war, and for that, I think, we have a kind of road map in the communique of 30 June 2012, and we'll see how we use that platform to best effect," Mr Brahimi said.
"We have no illusion that it is going to be easy, but we are going to try very hard." Disagreements
If all goes well, the hope seems to be that the big political questions which they cannot agree on will be sidestepped, our correspondent says.
Instead concrete steps such as local truces and access for aid convoys in Syria will be discussed. But with the lack of trust on either side, even that may collapse into disagreements.
The BBC's Imogen Foulkes in Geneva says that an immediate peace deal is not on the agenda. Neither is a transitional government nor the removal of President Bashar al-Assad.
Instead UN officials are hoping for anything that may bring some small relief to the millions of Syrians who have suffered so much – including the families of more than 100,000 people who have died in the conflict.
At a fractious news conference late on Wednesday, during which there were repeated calls for calm, UN Secretary General Ban Ki-moon spoke of the suffering in Syria, saying: "Enough is enough. The time has come to negotiate."
He said that "the really hard work begins on Friday", adding: "We have a difficult road ahead, but it can be done and it must be done."
"We did not expect instant breakthroughs. No-one underestimated the difficulties."
The BBC's Paul Wood in Montreux says that when the talks do go behind closed doors, it is hoped there will be a more constructive tone.
'Brutal response'
However, a huge gulf remains between the Syrian govenrment team and that of the opposition and its allies.
US Secretary of State John Kerry said: "There is no way – no way possible in the imagination – that the man who has led the brutal response to his own people could regain the legitimacy to govern."
However, earlier on Wednesday Syrian Information Minister Omran al-Zoubi told reporters: "There will be no transfer of power and President Bashar Assad is staying."
The Syrians also expressed anger at the withdrawal of an invitation to the talks to its key ally, Iran.
Another key sticking point is the Geneva I communique, agreed at a previous summit, which calls for a transitional government in Syria with full executive powers and which forms the basis of this new round of talks.
Syria has indicated that ending what it calls "terrorism" must be a priority of the communique.
But the head of the main opposition National Coalition, Ahmad Jarba, said the Syrian government must sign up to a deal to transfer powers.
Don't miss the stories
followIndiaVision India News & Information
and let's be smart!