Told to End Protests, Organizers in Hong Kong Vow to Expand Them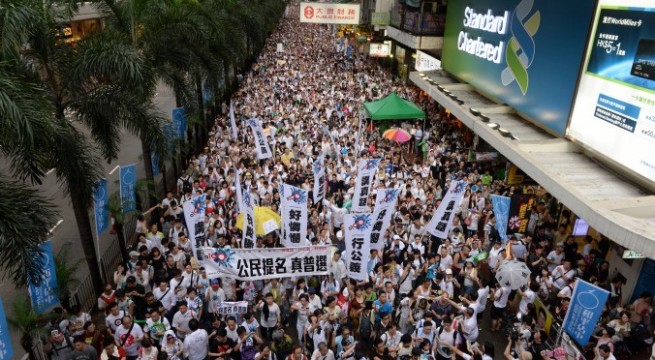 HONG KONG — Hong Kong's leader on Tuesday called for the pro-democracy demonstrators who have blocked major roads in the city to return home immediately, but protest leaders responded with defiance, threatening to expand the demonstrations and to occupy government buildings.
In his first public remarks on the protests since the Hong Kong police used tear gas against demonstrators on Sunday, Leung Chun-ying, the Beijing-selected chief executive of the semiautonomous Chinese territory, called on one of the two main groups organizing the protests, Occupy Central With Love and Peace, to end the demonstrations.
"Occupy Central founders had said repeatedly that if the movement is getting out of control, they would call for it to stop," Mr. Leung said. "I'm now asking them to fulfill the promise they made to society and stop this campaign immediately."
The crowds outside the local government headquarters swelled even larger on Tuesday night as people of all ages came to join the demonstration before public holidays on Wednesday, China's National Day, and Thursday, which is a local holiday. A government observation of National Day on Wednesday morning proceeded relatively smoothly, despite chants by protesters outside calling for Mr. Leung's resignation.
On Tuesday, after Mr. Leung had called for the demonstrations to end, Alex Chow, secretary general of the Hong Kong Federation of Students, said at the main protest encampment downtown that "residents may occupy various government departments" unless the government responds to their demands by Thursday.
Protesters at Golden Bauhinia Square in Hong Kong during a flag-raising ceremony to commemorate Chinese National Day.Hong Kong Protests Are Leaderless but Orderly SEPT. 30, 2014
President Xi Jinping of China, photographed in June, is seeking a solution to the problem in Hong Kong that does not give rise to new unrest on the mainland.News Analysis: For China, Limited Tools to Quell Unrest in Hong KongSEPT. 29, 2014
Thousands of pro-democracy demonstrators gathered in Hong Kong on Monday to continue calls for free and open elections for the city's chief executive in 2017.Protests in Hong Kong Have Roots in China's 'Two Systems'SEPT. 29, 2014
Leung Chun-ying, Hong Kong's chief executive, at a news conference in January. video Hong Kong Leader Reacts to ProtestsSEPT. 30, 2014
He gave no sign that he was prepared to meet with protest organizers or compromise on their demands for open elections to choose his successor.
The protests, which started on Friday when students took to the streets, expanded considerably when Occupy Central announced early Sunday that it was joining the demonstrations earlier than it had previously signaled.
The protesters want Beijing and the Hong Kong government to scrap a decision by China to limit who can run in the 2017 election to choose the next chief executive. China's plan for that election would let the public vote, but the candidates would be vetted by a committee friendly to Beijing.The demonstrators have also demanded that Mr. Leung resign. He said Tuesday that until a new procedure was approved, any successor would be chosen by a committee dominated by Beijing's allies, which is the current method.
Mr. Leung acknowledged Tuesday that the protests were likely to continue, and he urged the demonstrators to consider the damage he said they could do to the city.
Don't miss the stories
followIndiaVision News & Information
and let's be smart!