Ukraine crisis: US raises pressure on Russia over deal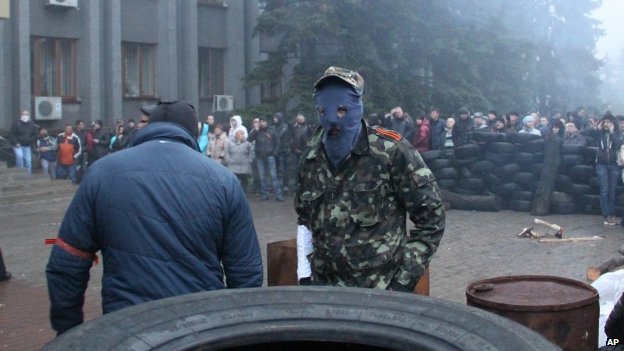 The United States has ramped up the pressure on Moscow, urging "full and immediate compliance" of a four-way agreement on Ukraine and warning of new sanctions if Russia fails to do so.
It came as the deal, struck on Thursday in Geneva between the US, European Union, Ukraine and Russia, appeared to stall because of intransigence by Moscow-backed rebels in the former Soviet republic.
In a phone call with Russian Foreign Minister Sergei Lavrov, Secretary of State John Kerry "made clear that the next few days would be a pivotal period for all sides to implement the statement's provisions," a senior State Department official said.
The top US diplomat stressed that "all illegal armed groups must be disarmed and all illegally seized buildings must be returned to legitimate owners," according to the official, who added that Kerry "urged full and immediate compliance" of the agreement.
The White House earlier warned Russia that it was closely watching and evaluating whether Moscow was honouring the deal designed to ease tensions that had surged dangerously in recent days in Ukraine's restive east, where pro-Russian rebels have seized a string of towns.
The rebels are refusing to cede control, threatening to unpick a pact struck just hours after the four parties signed off on it.
US National Security Adviser Susan Rice said Moscow must quickly rein in the separatist groups and allow Organization for Security and Cooperation in Europe (OSCE) monitors into the volatile area.
"We expect and we will be watching whether Russia does or does not uphold its responsibility to use its very considerable influence to restrain and withdraw those irregular militia from the buildings and spaces that they've occupied," warned Rice.
"So we will see, over the coming days, whether Russia upholds its agreement," she said, implicitly warning of new sanctions if Russia was judged not to have honoured the Geneva deal.
The stern warning from Rice came as Russia reacted angrily to previous US warnings, including from President Barack Obama, that it could face more sanctions if it did not live up to the deal.
State Department spokeswoman Jen Psaki cast additional doubt on whether Russia would follow through on the deal, which requires a disarming of militia groups and their evacuation of government buildings they have seized.
"I will say we're clear-eyed about Russia's record of not implementing steps in the past, so we will see if they do take steps this time," Psaki said.
"If they don't take steps, there will be consequences."
Neither Rice nor Psaki, however, would put a deadline on the US assessment of Russian compliance – both saying it was a matter of "days."
Kerry also spoke by phone with Ukrainian Prime Minister Arseniy Yatsenyuk and hailed Kiev's "important steps" to implement the agreement.
Ukraine has vowed to "take steps to increase transparency and inclusivity and the passage of the amnesty law that will go into effect" Saturday, the senior State Department official said.
Don't miss the stories
followIndiaVision India News & Information
and let's be smart!