Ukraine destroys Russian armour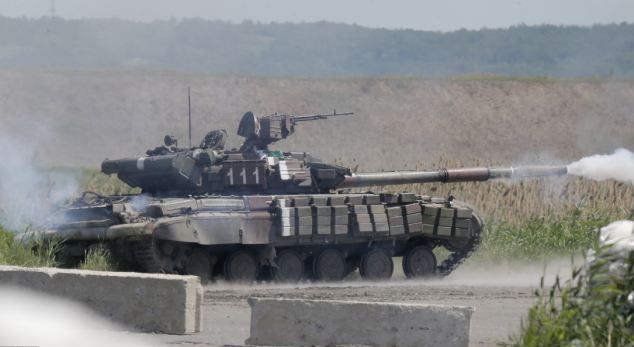 Nato accused Russia of active involvement in the "destabilisation" of eastern Ukraine, where pro-Kremlin separatists have been fighting against Kiev for four months. The two countries have also been wrangling for days over a Russian convoy that Moscow says is carrying aid for besieged rebel-held cities but which Kiev suspects could be a "Trojan horse" to provide military help to the insurgents.
Fears that the border clash could spill into all-out war between Kiev and Moscow sent major share markets tumbling across Europe and the United States. Ukrainian President Petro Poroshenko told British Prime Minister David Cameron that government artillery had destroyed a "considerable part" of a small military convoy that entered the country, the presidency said in a statement.
The European Union demanded that Russia put an "immediate stop" to hostilities on the border, while Britain summoned Moscow's ambassador to Ukraine to "clarify" the situation.
"If there are any Russian military personnel or vehicles in Ukraine they need to be withdrawn immediately or the consequences will be very serious," Foreign Secretary Philip Hammond said.
Moscow has rejected the charges it sent military hardware across the border, its latest denial of Western accusations it is funnelling weapons to the pro-Kremlin separatists who launched an insurgency against Kiev in April.
But Nato chief Anders Fogh Rasmussen backed reports of the "Russian incursion". "It just confirms the fact that we see a continued flow of weapons and fighters from Russia into the eastern Ukraine," he said.
"It is a clear demonstration of continued Russian involvement in the destabilisation of eastern Ukraine."
Russia's foreign ministry ominously accused Ukraine of "attempts to derail the supply of humanitarian aid" as doubts swirled over what will happen next to almost 300 Russian trucks parked up some 30-km from Ukraine's border. Moscow accused Kiev of stepping up military operations with the "obvious goal" of blocking the agreed route. It had appeared earlier that the two countries might reach a deal to allow the convoy into Ukraine to help people in the east who are without water, food or power. But the ICRC said they were still ironing out details over the shipment.
"People are struggling to cope with limited access to basic services such as water and electricity, so speed is of the essence," said Laurent Corbaz, ICRC head of operations for Europe and Central Asia.
Ukraine fears the convoy could be used as a pretext to invade, as a pro-Moscow rebellion shows signs of unravelling after four months of fighting that has left more than 2,000 people dead including children and sent around 285,000 fleeing their homes.
Moscow has insisted the white-tarpaulin trucks are hauling aid and officials tried to prove that by showing off the contents of 10 lorries baby formula, rations and bottled water to journalists.
"We've shown you everything. You see that we have nothing to hide — these trucks are carrying nothing but humanitarian aid," said Sergei Karavaytsev, from Russia's emergency situations ministry.
Don't miss the stories
followIndiaVision News & Information
and let's be smart!