US north-eastern battles first major snow storm of 2014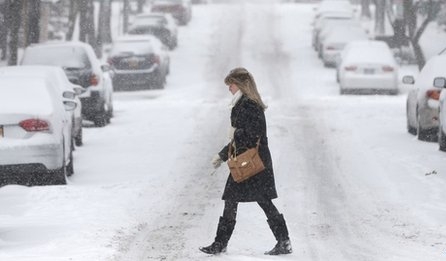 US north-east battles first major snow storm of 2014
The north-eastern US has been hit by a major winter storm, with 53cm (21 inches) of snowfall recorded in one town in Massachusetts.
Thousands of flights have been cancelled as heavy snowfall moved eastward from the Midwestern states.
The New York and New Jersey governors have declared a state of emergency, urging people to stay indoors.
In Canada, temperatures of -26C (-14F) were recorded in Montreal and Winnipeg, not including the wind chill factor.
On Thursday, central Quebec recorded an actual temperature of -46C (-51F), Environment Canada meteorologist Bernard Duguay told the BBC.
The storm is expected to worsen overnight and into Friday morning.
'Serious situation'
"We're going to see a lot of snow and a lot of wind," said Jason Tuell, of the US National Weather Service. "We're concerned about whiteout conditions possibly tonight with the blowing and drifting snow."
Late on Thursday evening, the National Weather Service said unofficial observations had recorded 53cm of snow in Boxford, north of Boston. Other areas of Massachusetts as well as New York experienced similar falls.
Similar accumulations were also expected in parts of the states of Vermont, New Hampshire and Maine, where many residents were recently without electricity because of an ice storm.
Cars covered with snow at Chicago's O'Hare International Airport, which saw major delays and cancellations because of the storm
Weather officials have issued a blizzard warning for the Long Island region of New York, where up to 10in of snow is expected.
Some schools have already announced closures for Friday and New York Governor Andrew Cuomo warned commuters to New York City to leave their vehicles at home on Thursday.
"We are looking at a serious storm situation," he said.
Lower overnight temperatures expected across the north-east also worried officials.
Massachusetts Governor Deval Patrick told non-emergency government employees to leave work at 15:00 local time (20:00 GMT), warning residents not to spent too much time outside because of the frigid temperatures.
"Minimise outside activities… These temperatures are very, very dangerous," he said on Thursday.
Snowy roads have already been blamed for a vehicle crash in Indiana that killed one person and injured more than a dozen after a lorry lost control and hit a bus carrying 50 people.
In Hartford, Connecticut, householder Hal Guy was preparing for the snow by shopping for three snow shovels.
"We broke a couple in the last storm," he told the Associated Press news agency.
"We have four kids, so, three shovels, and we still have a little one back home."
The storm is expected to be an early test for New York City Mayor Bill de Blasio, who was sworn in on Wednesday.
"We are focused like a laser on protecting this city and getting everyone ready," he said. "We have all hands on deck."
He warned New Yorkers to stay indoors "to the maximum extent possible".
"If you don't need to go out, please don't go out," he said.
To the south, smaller but still significant amounts of snow are expected in New Jersey and eastern Pennsylvania.
Don't miss the stories
followIndiaVision News & Information
and let's be smart!