US Secretary of State John Kerry struggles to keep Middle East peace talks on track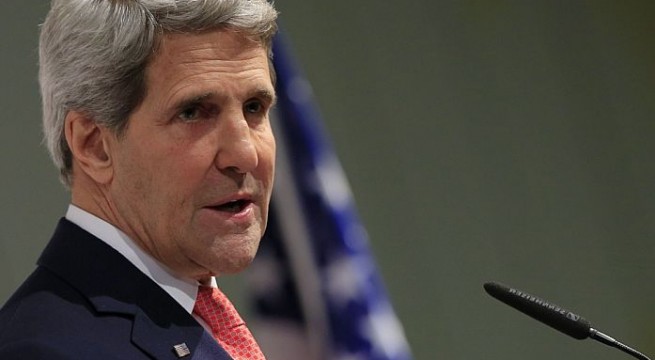 US Secretary of State John Kerry struggles to keep Middle East peace talks on track
Jerusalem – US Secretary of State John Kerry is struggling to keep the faltering peace process on track as Israeli and Palestinian leaders indulged in a fresh verbal spat, casting a shadow on the possibility of a peace deal.
Israeli Prime Minister Benjamin Netanyahu first launched the tirade against Palestinian Authority (PA) President Mahmoud Abbas for welcoming Palestinian prisoners released by the Jewish state under the US-brokered deal.
"To glorify the murders of innocent women and men as heroes is an outrage," he said during a press conference with Kerry before the latter visited the West Bank town of Ramallah to meet Abbas yesterday.
Hitting back, chief Palestinian negotiator Saeb Erekat said that even if Abbas were Mother Teresa, the Israelis would find a way to accuse him of terrorism so that they would not have to accept the Palestinians' demand for a state.
"If Mother Teresa was Chairperson of the Palestinian people and Montesquieu was the Chairman of the Parliament and Thomas Jefferson was president and Prime Minister and favoured a Palestinian state on the '67 borders and Jerusalem as its capital and resolving the refugee issue, our partners (Israel) would describe them as terrorists and say they should get rid of them," Erekat told Arabic newspaper Asharq al-Awsat.
As if the verbal spat between the two sides was not enough, senior Republican Senators visiting Tel Aviv expressed concerns over Israel's security while Palestinians demonstrated against Kerry's mediation, doubting its fairness.
"Prime Minister Netanyahu has serious, serious concerns about the plan that has been presented to him – whether it be the ability of Israel to defend its borders, the viability of a Palestinian state and their intentions and their actions toward the state of Israel, and particularly on the overall security," Sen. John McCain of Arizona, accompanied by two more Republican senators, told reporters in Jerusalem.
Kerry, whose shuttle diplomacy succeeded in breaking the three-year deadlock in peace talks between the two sides in July when they agreed to a nine-month period of negotiation to reach a final peace deal, is now seeking to overcome their concerns about a "framework" to guide negotiations towards a lasting peace agreement.
Officials on both sides expressed apprehensions over the likelihood of even the "framework agreement" coming through, conceding it would take time beyond April, the original nine-month deadline agreed on.
Asked if he was making progress, Kerry looked upbeat and said "progress is being made every day". Kerry met with Abbas in Ramallah yesterday and is expected to meet him again later today.
Abbas' office yesterday issued a press release after the meeting, saying the two leaders discussed ways to promote the peace process.
However, a close aide to Abbas dismissed Kerry's drive for a "framework agreement" as biased toward Israel.
Yasser Abed Rabbo, Abbas's deputy in the Palestine Liberation Organisation, said the plan, still being finalised, "restricts Palestinian sovereignty on Palestinian land".
"The Palestinian side will not even look at a worthless piece of paper, a framework agreement, which contains general principles for later negotiations, when the two sides have already been negotiating for months and years," Abed Rabbo told al-Ayyam newspaper yesterday.
Meanwhile, Palestinians held demonstrations to protest Kerry's visit, chanting slogans like "Kerry, you coward, there's no place for you in Palestine" and "the Americans are the enemy of our people!".
Dozens of riot policemen and security forces in plain clothes prevented their march from reaching Ramallah's presidential compound where Abbas is expected to receive Kerry today.
The top US diplomat has curtailed his expectations from the ongoing talks, limiting it to the goal of a "framework agreement" or series of guidelines, to address all core issues, including borders between Israel and a future Palestinian state, Palestinian refugees and conflicting claims to the holy city of Jerusalem.
Don't miss the stories
followIndiaVision News & Information
and let's be smart!