Can your beauty salon harm you?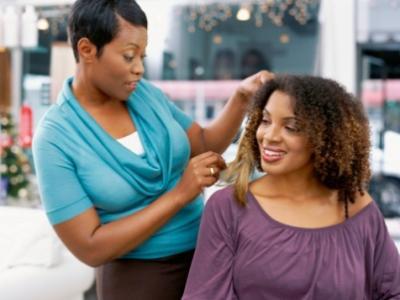 The quickest way to pamper yourself is to indulge at the salon. However, a recent study claims that a simple fish pedicure that involves tiny toothless carp nibbling away at dead skin could spread deadly infection and disease. And that's just the tip of the proverbial iceberg. So, if you have intentions of stopping by the salon for a beauty treatment, read on.
Skin-tillating? …not at all! If you have a weak immune system, or condition like diabetes and psoriasis in particular, experts advise you to stay away from your local beauty parlour. They warn of the dangers of contracting Hepatitis C from the use of unsterile scissors (through a nick during a haircut or even a manicure). A website even reports how American singer Paula Abdul suffered a long and painful thumb infection she picked up at a Los Angeles nail salon and testified before legislators in support of a bill to increase nail salon health standards.
"If a person is already infected with a bacterial or fungal infection and warts or molluscum (viral) and bleeds into the water in the tank, then there definitely is a very chance this could be passed to another client, either via the fish or contaminated tank water; if this not taken care of it can be harmful," says skin expert Dr Krupa Amonkar. In addition, there is a danger of contracting the Hepatitis c virus from unsterile scissors either through a nick during a haircut or during a slip that draws blood in a manicure. A website reports how singer and American Idol judge Paula Abdul suffered long, painful thumb infection that she apparently picked up at a Los Angeles nail salon and testified before legislators in support of a bill to increase nail-salon health standards. Mike Comins, chairman of the British Association of Cosmetic Doctors, says: "Hepatitis C is a robust virus that can live outside the body for quite a long time and may not display any symptoms at all. It can linger for decades, increasing your risk of cirrhosis and liver cancer. It's very contagious and not routinely tested for." Adds skin doctor Rita Shah, "One has to be careful. If the instruments are not sterilised properly, there's a risk they could spread blood-borne infections." Hair and now! Ever thought a simple blow dry could nix it for you? That's apparently that case.
You can actually suffer 'asphyxiation' from a Brazilian Blowdry as a major ingredient in the straightening treatment dubbed the Brazilian, or permanent, blowdry is said to be formaldehyde. And inspite of certain restrictions on the amount of the chemical that can be used, and new formaldehyde-free formulations, certain firms are still selling products that can cause breathing difficulties and other unpleasant side-effects. That's a scare, not counting smaller woes like head lice from dirty brushes! And don't forget hot wax has the potential to be seriously dangerous if it's not handled properly or even a stroke from a washbasin! If you have managed to just end up to with a crick in your neck and shoulder after a shampoo, count your blessings. Research indicates that the position in which you have to hold your neck while being shampooed over a basin could, in a few cases result in a stroke, known as Beauty Salon Stroke Syndrome. The result can be dizziness, facial numbness, and even a blood clot in the brain. This is especially dangerous for those with high blood pressure. The warning signs are out, next time you might want to do a re-think before your hairdo or manicure.
Don't miss the stories
followIndiaVision India News & Information
and let's be smart!