Cancer: Breaking the bad news to patients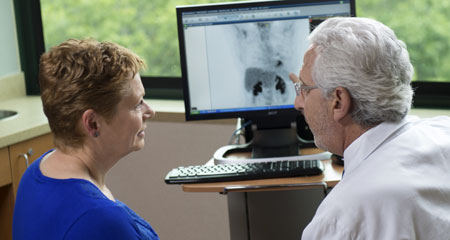 For Dr Ranjana Srivastava, who began working as an oncologist in Australia 10 years ago, breaking the news to patients suffering from cancer is part of the job.
"A doctor must be able to read a patient in order to break bad news. I ensure they have at least one close family member present when I tell them. This way, the patient has another pair of ears as well as support after I leave the room," she says, over a telephone call from Melbourne.
Srivastava's decision to be a cancer specialist, she says, was influenced by her experience of watching her grandmother, who was diagnosed with cancer, slip into a coma and pass away. She was 10 at the time. While the family consulted a reputed doctor in Bhagalpur, Bihar, where she grew up, they were given little information about the disease or what the patient would go through. "I wish that the oncologist had held my Nanima's hand and told her what to expect," she says.
In her book Tell me the truth; conversations with my patients about cancer, life and death (published by Harper Element), Srivastava uses real patient experiences to discuss how different patients deal with the news and how families can cope.
The C-word: According to the World Cancer Report from the World Health Organisation (WHO), nearly seven lakh Indians die of cancer every year, while over 10 lakh are newly diagnosed with some form of the disease. While doctors are consumed by growing queues in hospital waiting rooms, and the churn of diagnosis and treatment, in most cases, patients are left with inadequate knowledge of their condition.
In many cases, patients have a hint about the disease while going through the tests. The prolonged wait to be diagnosed only adds to the stress. Srivastava prefers to tell a patient that she needs to discuss serious news and suggests calling in a family member. It's important to be prompt in organising such a meeting, she says.
"Cancer is a frightening term and countless patients have said that once they hear the word, they are incapable of processing anything more. So, I keep the initial discussion short until the patient has gained some control of their thoughts," she says.
There are many patients, who want to protect their family, and insist on hearing the news alone, Srivastava ensures her staff or a social worker is present to talk to the patient. "This doesn't mean that they will never want their family involved; often it's a matter of time before they let others in," she explains.
Focus on facts: Not all cancer is terminal, especially when the disease is caught in the early stages. "It is vital to inform and educate patients about their particular cancer, available treatment and outcomes," says Srivastava. A large part of her job, she reveals, includes listening to patients who are simply left feeling vulnerable and overwhelmed.
Families go through a particularly hard conundrum. They feel bad for the patient but don't know how to help, she says. Part of her role is also to speak with families about how they can best help the patient.
Ask Questions: The initial shock, patients have revealed, leaves them with a lot of questions but they are unable to articulate them. It's important to tell patients to expect this. Srivastava advises them to write down questions as they come up.
No question is too small or simple to ask, reiterates Srivastava.
"Never be afraid of sounding silly or uneducated in front of your doctor.
Cancer is a highly specialised field and many experts in the profession also aren't able to fully understand the workings of the human body," she offers to families seeking answers. If you are unable to understand medical terms, ask the doctor to simplify it in plain language.
If you are a web junkie, be careful not to trust all the information you find online. Srivastava suggests taking along the research to clarify it with a doctor.
Dealing with pain: When it comes to palliative care, an area of medicine that deals with controlling pain and ensuring comfort of the patient when a disease is not curable, Srivastava's focus includes dealing with anxiety and emotions as well.
For many patients, home-based palliative care is suitable, where trained workers monitor symptoms and provide advice under the supervision of doctors. Patients who are too ill to be managed at home or whose complex symptoms require closer attention may be admitted to an in-patient hospice for stabilisation or end-of-life care.
Barriers to palliative care remain with a lack of awareness and availability of facilities. "When people believe that palliative care equates to just letting a patient die, it is natural to avoid discussing it and even being against such care. But the focus is on making sure the patient lives with dignity," explains Srivastava.
In Melbourne, Srivastava conducts a communication workshop for healthcare professionals on dealing with patients. Key notes include; talk less, listen more; be comfortable in silence; look for and respond to emotion; and avoid information overload.
Her efforts are to allow an open doctor-patient relationship. She says, "It is fundamental to cancer treatment, which relies not only on medications but also on human touch which is vital."
Don't miss the stories
followIndiaVision India News & Information
and let's be smart!