Healthy diet in midlife slashes dementia by 90 per cent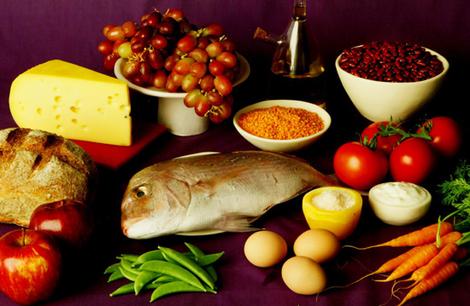 Plenty of vegetables, fruit and fish from the age of 40 slashes the risk of developing the killer brain disease by 90 per cent.
A study has found that a higher intake of saturated fats from butter, cakes and fast food is linked to poorer cognitive functions and an increased chance of dementia.
But people who follow the healthiest diet between the age of 40 to 50 can slash their risk of the devastating condition by the time they reach their 60s.
Researcher Marjo Eskelinen from the University of Eastern Finland, said: "Diet is very important throughout life, and in the prevention of dementia especially the diet that is consumed already at the age of 40-50 years is of top priority."
The study was the first in the world to investigate the relationship between a healthy diet as early as in midlife – and the risk of developing dementia later on.
The researchers assessed the link between diet and dementia using a healthy diet index based on the consumption of a variety of foods.
Vegetables, fruits, fish and unsaturated fats from milk products and spreads were some of the healthy dietary components.
Sausages, eggs, sweets, sugary drinks, salty fish and saturated fats from milk products and spreads were classed as unhealthy.
Previous studies looking at diet and dementia have focused mainly on the impact of single foods.
But Ms Eskelinen said: "Nobody's diet is based on one single food, and there may be interactions between nutrients, so it makes more sense to look at the entire dietary pattern."
The impact of dietary fats on cognitive performance and the risk of dementia was also studied separately.
The research showed a high intake of saturated fats was linked to poorer cognitive and memory functions and to an increased risk of mild cognitive impairment in a 21-year follow-up.
It was also shown that a higher saturated fat intake was associated with an increased risk of dementia among those carrying a genetic risk factor of Alzheimer's disease.
Ms Eskelinen said: "Even those who are genetically susceptible can at least delay the onset of the disease by favouring vegetable oils, oil-based spreads and fatty fish in their diet."
Out of 2,000 participants, 1,449 took part in the follow-up.
The participants were 39 to 64 years old at the start and 65 to 75 years old at follow-up.
Ms Eskelinen said: "These findings are important because the dementia process is a long process, and the first changes in the brain may have already started by the age of 40-50 years – about 20 years before the clinical diagnosis.
"Based on the results, by reducing the intake of saturated fats in your diet and by increasing the intake of unsaturated fats as early as at midlife you may decrease the risk of dementia later in life.
"The quality of fats matters. You should get more unsaturated 'good' fats than saturated 'bad' fats in your diet.
"Additionally, moderate coffee consumption of three to five cups a day at midlife was associated with a decreased risk of dementia and Alzheimer's disease in later life.
"So if you are a coffee drinker, you should keep doing so, but we cannot still recommend coffee drinking to those who do not drink coffee at the moment.
"Additionally, people who already have a healthy diet at midlife have a decreased risk of dementia later in life.
"Beneficial components included vegetables, fruits, fish and unhealthy components include sausages, sugary soft drinks and sweets.
"Unfortunately, at this point more precise recommendations based on these results cannot be done – exact grams of dietary fats to be consumed during one day is impossible to say.
Don't miss the stories
followIndiaVision India News & Information
and let's be smart!