India's best bridal jewellery revealed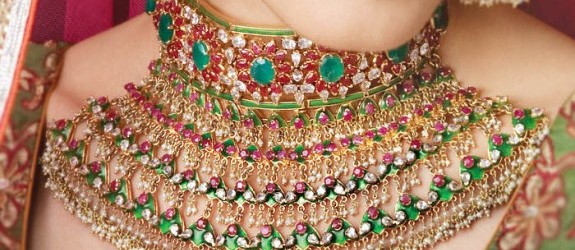 India's best bridal jewellery revealed
New Delhi – The influence of jewellery and other precious adornments has been ample throughout history.
These precious objects are not just a symbol of pride and prestige but also denotative of the rich Indian traditions and cultural heritage.
They are often given to women as gifts on various auspicious occasions, Andpersand reported.
Following are some essential items that comprise a bridal trousseau from various parts of India.
The aarsi ring was introduced by the Mughals to India and is very popular among brides, having a flat, jeweled mirror fitted on a thick gold base. It had become a part of bridal adornment to allow the coy brides to sneak a peek at their grooms as they mostly had their faces veiled during weddings. The rind has kundan, also open filigree, soldered bead work or pearls. "
Satlada is a seven strand layered pearl necklace with each strand having its own pendant and forming seven small necklaces. Sometimes a similar variation is created with five layers or nine layers, being another Mughal contribution to the Indian jewellery.
Makarkanthi is a ceremonial necklace, worn by royalty and their courtiers for occasions. The word makara denotes a mythological sea monster combining the body of a crocodile with other animals; while kanti means necklace.
Mukkutti is a nose ring, which is worn as a very delicate gold ring that dangles between the nostrils with a small pearl or ruby bead attached to it. The logic behing it being that since women cannot remove the mukkutti on their own easily, it is something that will go with them into the nether world after their death.
Lotan are dome-like earrings, popular in Punjab, made of gold, they have a small hook on the inside of the dome through which silken thread tassles, called latkan, can be hung.
Don't miss the stories
followIndiaVision India News & Information
and let's be smart!