Ray of hope for HIV patients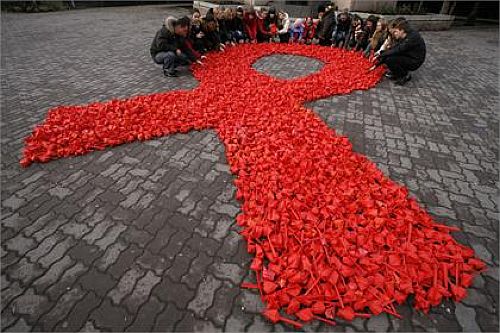 Ray of hope for HIV patients
New York – In a significant discovery, researchers have identified a new protein that holds promise for the next-generation of anti-HIV drugs.
The team at University of California, Berkeley, and the National Institutes of Health have focused on Nef – a fourth protein that hijacks host proteins and is essential to HIV's lethality.
They captured a high-resolution snapshot of Nef bound with a main host protein, and discovered a portion of the host protein.
By blocking the part of a key host protein to which Nef binds, it may be possible to slow or stop HIV, said scientists.
"We have imaged the molecular details for the first time," said structural biologist James H. Hurley, UC Berkeley professor of molecular and cell biology.
"Having these details in hand puts us in striking distance of designing drugs to block the binding site and, in doing so, block HIV infectivity," he claimed.
"For many patients, current drug therapies have transformed HIV infection into a chronic condition that doesn't lead to AIDS. But anything we can develop to further interfere with replication and propagation of the virus would help keep it in check until we find a way to completely eliminate the virus from the body," explained Hurley.
"The new high-resolution image reveals a cavity at the site where Nef binds to a key host protein, that could be a good site for drug targeting," said cell biologist Juan Bonifacino of the National Institutes of Health.
"This cavity is not known to be used by any other host protein, so if we interfere with the cavity, we are not going to interfere with any host cell function, only the function of Nef," he added.
Hurley cautioned, however, that the research "needs more validation to prove that the cavity is a target. But we are excited because it is a potential target".
People infected with HIV can stave off the symptoms of AIDS thanks to drug cocktails that mainly target three enzymes produced by the virus.
But resistant strains pop up periodically that threaten to thwart these drug combinations.
Don't miss the stories
followIndiaVision India News & Information
and let's be smart!