Kathmandu's sweet but deadly kung fu nuns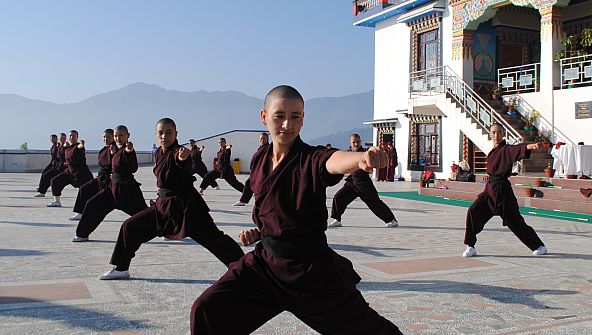 Kathmandu's sweet but deadly kung fu nuns
By Mohammad Asim Khan
Kathmandu – Their smiling faces and calm demeanour mask a roaring sea of immense energy and strength. These inmates of the Druk Amitabha nunnery in Kathmandu are also deadly kung fu fighters, being trained in the martial art as part of a strict regime, which also includes yoga and meditation, to promote gender equality.
"We do it as part of meditation and also to remain physically fit. Your spiritual well being depends a lot on your physical well being," says Wangmo, 28, who trains the kung fu nuns.
Hailing from a small village in Lahul-Spiti in northern India's Himachal Pradesh state, Wangmo has been in the nunnery for the last seven years and has been practising ku! ng fu for four years. "I enjoy it very much," she says as she wipes the sweat off her brow after a demonstration of her skills.
The nuns are allowed to visit their parents and home only once in about four years.
The nunnery was established by the Gyalwang Drukpa – the highest spiritual leader of the Drukpa lineage of Buddhists across the world – more than a decade ago to honour the will of his late guru. The objective was to train nuns at par with men – and that's exactly what happens here.
"The uplift of women and gender equality are the causes close to my heart," says the Gyalwang Drukpa. "I introduced kung fu as part of their training regime to give them strength, both inner and outward, as martial arts are also about meditation," he added.
"Recently, a Saudi Arabian princess asked me about the kung fu nuns and their training regime. She was interested in it because they are also trying to bring in gender equality in their society," Dr! ukpa added.
"The kung fu nuns are my idea of gender equality.! .. it's interesting," Drukpa smiled.
A kung fu nun's work starts at 3 a.m. and ends at 10 p.m. First on the list is meditation till 4.30 p.m., followed by prayers at 5 a.m. And breakfast at 8 a.m.
After a half-hour break, it's again time for meditation till 10 a.m., followed by classes to learn the Tibetan language.
Lunch – strictly vegetarian – is served at 12.30 p.m., after which the nuns are allowed an hour's to rest before they troop in for an English class.
At 4 p.m., it's tea time followed by recreation. Evening prayers are at 5 p.m and between 8 p.m. and 10 p.m. the nuns practise kung fu.
"It's a life that we have chosen for ourselves and I am quite happy with it," says Wangmo.
Don't miss the stories
followIndiaVision India News & Information
and let's be smart!