5 Years After 26/11: A timeline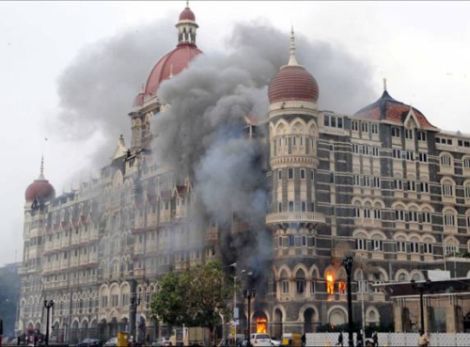 Five Years After 26/11: A timeline
It was a cold night of Nov 26, 2008, when 10 heavily armed Pakistani terrorists brazenly entered Mumbai thro! ugh the virtually unguarded Arabian Sea route. Shortly afterwards, they unleashed a brutal terrorist attack on several prime locations in south Mumbai spread over a four-five square km area, leaving the world shocked.
Here's what happened and the subsequent events that finally culminated in the hanging of the sole gunman caught alive – Mohammed Ajmal Amir Kasab.
2008:
Nov 26: Kasab and nine Pakistani gunmen launch a bloody attack on multiple locations in south Mumbai.
Nov 27: At 1.30 a.m., Kasab caught and placed under arrest, admitted to Nair hospital.
Nov 29: Kasab gives statement to police, confesses role.
Nov 29: All places under siege secured after 60 hours, nine terrorists killed — Nazir, Babar Imran alias Abu Aksa, Abu Ali, Abu Soheb, Bada Abdul Rehman, Abu Umar, Fahadullah, Abdul Rehman Chhota and Abu Ismael.
Nov 30: Kasab confesses before police.
Dec 27/28: Identification parade held.
2009:
! Jan 13: M.L. Tahaliyani appointed 26/11 Special Judge.
Jan 16: A! rthur Road Jail selected for Kasab's trial.
Feb 5: Kasab's DNA samples matches with articles seized from fishing boat, Kuber.
Feb 20/21: Kasab makes confession before Magistrate R.V. Sawant-Wagule.
Feb 22: Ujjwal Nikam appointed Special Public Prosecutor.
Feb 25: Chargesheet against Kasab, two others filed in Esplanade Metropolitan Court.
April 15: Trial in 26/11 case commences.
April 16: S.G. Abbas Kazmi appointed as Kasab's lawyer.
April 17: Kasab's confession opened in court, he retracts.
April 20: Prosecution charges Kasab on 312 counts.
April 29: Kasab is major: experts' opinion.
May 6: Charges framed, Kasab charged on 86 counts, but denies charges.
May 8: First eyewitness deposes, identifies Kasab.
June 23: Non-bailable warrants issued against 22 including Hafeez Saeed, Zaki-ur-Rehman Lakhvi.
July 20: Kasab pleads guilty before Special Judge M.L. Tahaliyani.
Nov 30: S.G. ! Abbas Kazmi removed as Kasab's lawyer.
Dec 1: K.P. Pawar officially takes place of Kazmi.
Dec 16: Prosecution completes case in 26/11.
Dec 18: Kasab denies all charges.
2010:
Feb 22: David Coleman Headley issue crops up in court
Feb 23: Final argument begins from March 9
April 6: Home Minister R.R. Patil makes the sensational disclosure in Maharashtra legislature that the bodies of nine slain Pakistani terrorists were buried in January 2010, somewhere near Mumbai. He warned that any future terrorists would meet a similar fate.
May 6: Kasab sentenced to death by 26/11 court
June 8: Amin Solkar, Farhana Shah appointed lawyers for Kasab to appear in HC
Oct 18: Kasab's death sentence confirmation/his appeal hearing to commence in high court
Oct 19: Kasab throws tantrums, says he wants to attend the court in person, spits at camera and says "send me to America"; judges warn him to behave properly
Oct 21: Kasab reiterates before his lawyers that he wants to come to c! ourt personally
Oct 25: High Court judges view CCTV footage purportedly showing Kasab and slain terrorist Abu Ismail in terror acts.
Oct 27: Prosecutor Ujjwal Nikam justifies death sentence awarded to Kasab by trial court
Nov 19 Nikam tells court that 26/11 attackers wanted separate state for Muslims
Nov 22: Kasab is a liar and plotter, argues Nikam
Nov 24: Nikam tells High Court that trial court had erred in partially accepting Kasab's confession.
Nov 25: Kasab's lawyer Amin Solkar begins argument, says trial was unfair. He demands retrial in 26/11 case.
Nov 30: Solkar argues that charge of "waging war against nation" was not made out against Kasab.
Dec 2: Kasab did not come from Pakistan by dinghy, his lawyer says and added that the dinghy could not accommodate 10 people.
2011:
Feb 7: Bombay High Court sets Feb 21 as judgement date.
Feb 21: Bombay High Court upholds death verdict on Kasab.
Oct 10: Supreme Court stays execution of Kasab's death sentence. Kasab claims to the SC that he was 'brainwashed', did not deserve the death sentence as he was very young.
Oct 18: SC admits Maharashtra appeal challenging the acquittal of Kasab associates Fahim Ansari & Sabahuddin Ahmed.
2012:
Jan 31: Kasab contends in SC that he was denied a free and fair trial.
Feb 23: SC views footage of Mumbai carnage, hears taped conversation of Kasab and his Pakistani handlers and among the 10 terrorists who carried out the attacks.
April 25: After a marathon hearing of nearly 10 weeks, SC reserves its verdict.
Aug 29: SC upholds HC death sentence to Kasab.
Sept : Kasab, through the Maharashtra government, moves a mercy plea to the president of India.
Oct 16: Centre moves SC seeking rejection of Kasab's mercy petition.
Nov 5: President rejects Kasab's mercy plea.
Nov 21: Kasab taken to Yerawada Central Jail, Pune, a! nd hanged in secrecy, and later buried somewhere in the jail complex, i! n an operation scripted by State Home Minister R.R. Patil.
Don't miss the stories
followIndiaVision India News & Information
and let's be smart!