600 Indians to return from Iraq over the week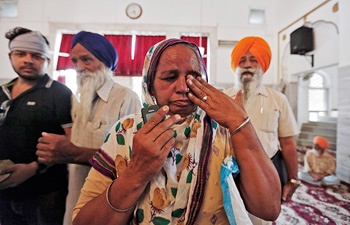 India will facilitate the return of over 600 of its nationals from war-torn Iraq over this week. While the government has denied the need to utilise "additional national assets" for their return, it said it will not hesitate to use them if required.
"They are all leaving by commercial flights, that's why I say we are in the facilitation phase," Ministry of External Affairs (MEA) spokesperson Syed Akbaruddin said on Monday. "There is no need to turn to additional facilities. All our national assets stand ready to assist should they be required. If these are not adequate, we will not hesitate to use other national assets," he said.
The mobile teams dispatched to Iraq by the MEA have been reaching out to Indian nationals mainly in the cities of Najaf, Basra, Karbala and Baghdad.
"We had sent mobile teams to Najaf, Karbala, and Basra and a team to Baghdad yesterday [Sunday], these were authorised by the External Affairs Minister [Sushma Swaraj] to contact Indian nationals and advise them that in accordance with the two advisories we have sent. It is best if they leave their places of work and return to India," Mr. Akbaruddin said.
He said the government would bear the cost of their return tickets and the embassy teams would assist them — with their sponsors and with Iraqi immigration authorities — regarding problems relating to contractual obligations and visa issues among others.
The government facilitated the return of 60 Indians from Najaf on Monday while the papers of another 31 were being processed. Their return flights had been booked for "tomorrow [Tuesday] or day after [Wednesday]."
Ticketing and papers of another 30 Indians in Najaf were being processed, it was informed.
Approximately 230 Indians will return home from Karbala over the next few days, the government said. While 30 Indians had already left, the paperwork of 100 others was in the pipeline and would be undertaken in the next two to three days. The government hoped to complete paperwork of another 100 Indian workers in Karbala over the next five-six days.
In Basra, which is the farthest among these cities from capital Baghdad, an MEA team that reached on Sunday night secured the release of six Indians under judicial custody.
"The team met a judge who has agreed to release about six Indians who were in judicial custody. They will leave shortly. In Nasiriya, we are working on ensuring paperwork of another 50 Indian workers. In Baghdad, we have now issued tickets for 12 Indians to return, four have left today[Monday], the remaining eight will leave on Tuesday or so," Mr. Akbaruddin said.
The government also said it was in touch with the 46 nurses trapped in a hospital in Tikrit. "At this stage [of the conflict] it would not be responsible for us to indicate they should leave. We are in regular touch with them [and] we have provided them resources. We have also explained to Iraqi authorities about their location so they take due care to ensure they aren't caught in crossfire," Mr. Akbaruddin added.
Don't miss the stories
followIndiaVision News & Information
and let's be smart!