9 days in the dark: 2 workers rescued from Bilaspur tunnel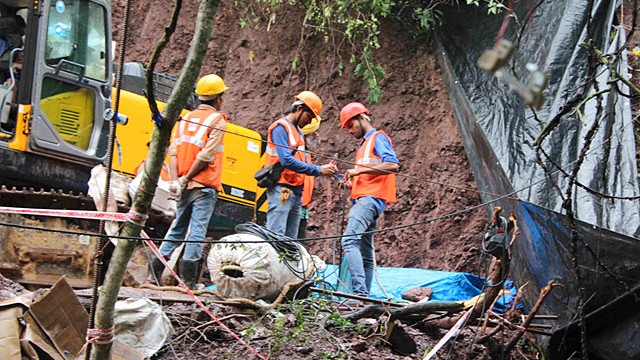 Two labourers trapped more than 40 metres underground for over a week in Himachal Pradesh's Bilaspur district were rescued on Monday, bringing relief to their worried families after a long, tiring operation that suffered many setbacks.
Satish Tomar and Mani Ram were brought out by a National Disaster Response Force (NDRF) team around 4:30pm, nine days after they got trapped following a tunnel collapse. Search is on for Hirday Ram, the third worker who was with the duo. His fate is uncertain since there has been no contact with him so far.
On September 12, three workers of the Himalayan Construction Company were trapped in Tunnel Number 4 being built for the Kiratpur-Nerchowk four-lane project after a cave-in blocked the entrance with tonnes of earth and boulders. The 1.2-kilometre tunnel, a project worth Rs 82 crore, had been dug 275 metres when it collapsed 80 metres from the mouth.
Rescuers first made contact with Satish Tomar and Mani Ram on September 17, and food and water were dropped during the week after engineers drilled a thin 47-metre (154-foot) shaft down to the roof of the tunnel.
On Monday morning, an NDRF team made some significant progress in the drilling work on the collapsed tunnel. But, soon rescuers understood that the opening was not big enough to bring out the workers. After more drilling, the final effort was launched in the afternoon.
Earlier in the day, Bilaspur deputy commissioner Manasi Sahay said an experienced official went down "with all the necessary equipment". The official contacted the two workers and gave them a mobile phone that had songs installed on it.
A remote camera and microphone were lowered on Saturday, allowing rescuers to speak to the two workers, who said they were uninjured.
Using heavy machinery, engineers have spent days trying to dig a wider shaft to allow rescuers to be lowered down into the tunnel, which is part of a highway construction project.
A 50-member team of engineers, technical supervisors, drilling experts and geologists from Sutlej Jal Vidyut Nigam Limited (SJVNL), Border Roads Organisation (BRO), and Himachal Pradesh Power Corporation Limited (HPPCL) was at work to dig a 1.2-metre-wide hole till the tunnel roof to send in an NDRF team.
But efforts were hampered by mechanical breakdowns, NDRF commanding officer Jaideep Singh said from the site in Bilaspur district.
The heavy-duty hydraulic rig positioned at the site three days ago had broken down on Friday night first, but the work had resumed on Saturday. Drilling work on the vertical cavity again came to a halt when the machine broke down on Saturday night and could not be repaired till late afternoon, even as a part was shipped from Delhi overnight.
On Sunday, another technical glitch forced the rescue operation to be put off, prolonging the wait for the workers. Continuous rain since early morning and water ingress in the shaft dug to pull out the trapped men added to the difficulty.
Don't miss the stories
followIndiaVision India News & Information
and let's be smart!