Ahmedabad court rejected a petition filed by Zakia Jafri against Modi in 2002 Gujarat riots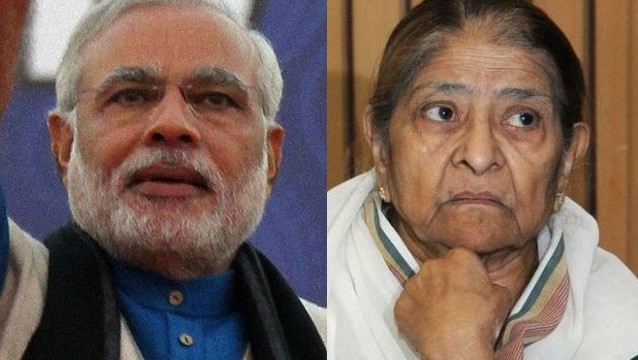 Ahmedabad court rejected a petition filed by Zakia Jafri against Modi in 2002 Gujarat riots
Ahmedabad – In a big relief to BJP's prime ministerial candidate Narendra Modi, a Ahmedabad court on Thursday rejected a petition filed by Zakia Jafri against the closure report of Special Investigation Team (SIT) which gave a clean chit to the Gujarat Chief Minister in connection with the 2002 post-Godhra riots case.
Magistrate BJ Ganatra in his one line order said the court accepts the SIT report in the Gulberg case. Importantly, the magistrate said that Jafri can approach a higher court.
SIT lawyer RS Jamuar said, "No criminal case now can be initiated against Modi, other accused,"adding, "SIT's impartiality has been confirmed."
Zakia Jafri is the wife of former Congress MP Ehsan Jafri, who was among 69 people killed in the Gulberg Society massacre in Ahmedabad on February 28, 2002.
Reacting to the court verdict on a news channel, Jafri said, "Saddened by order but not disheartened, will appeal in a month to High Court."
In her petition, Jafri had contended that Gulberg massacre was cold-blooded conspiracy by Modi and others to facilitate state-wide communal violence. She also claimed her husband made frantic calls to the police and even to Narendra Modi, who refused to send help.
Magistrate BJ Ganatra had earlier said he would deliver the order on October 28, but it was deferred to December 2, and then to December 26.
Jafri is the wife of former Congress MP Ehsan Jafri, who was among 69 people killed in the Gulbarg Society massacre here during the 2002 riots.
SIT had submitted its report on February 8 last year, clearing Modi's name in any conspiracy.
She had filed a petition against the SIT report in April seeking its rejection and an order to file chargesheet against Modi and others during the 2002 riots.
The Supreme Court had appointed the SIT to probe Jafri's allegations. SIT chief RK Raghavan filed a final report on February 8, 2012, which said there wasn't sufficient evidence to prosecute Modi . Besides Modi, 58 others were given a clean chit by the SIT.
Following the petition by Jafri, the SIT had strongly defended its investigations and termed the protest petition a 'piece of fiction'.
Raghavan had said that was ready for the report "to be scrutinized by anyone."
Importantly, senior advocate Raju Ramachandran, appointed by the Supreme Court to investigate allegations of Narendra Modi's complicity in the Gujarat riots, had said that there appears to be enough grounds for offences to be made out against the Chief Minister.
Ramachandran in his report submitted to the Supreme Court said that, prima facie, Narendra Modi can be booked under sections that relate to "promoting enmity between different groups on grounds of religion and acts prejudicial to (the) maintenance of harmony".
Over a thousand people were killed in 2002 Gujarat riots.
Don't miss the stories
followIndiaVision News & Information
and let's be smart!