Central govt yet to decide on date for Telangana formation day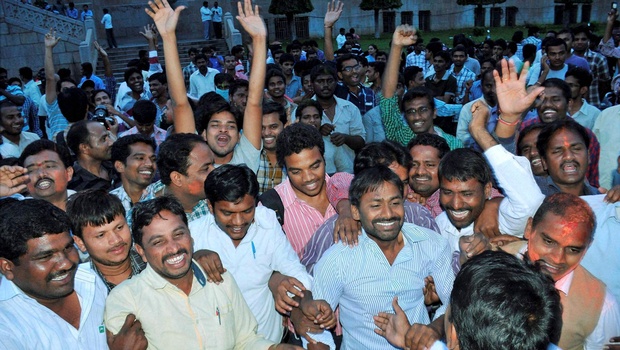 Hyderabad -Nearly a week after parliament passed a bill for bifurcation of Andhra Pradesh, the central government is yet to decide on the day when two states will formally come into being. The union home ministry has summoned Chief Secretary PK Mohanty to Delhi Wednesday for a meeting, which is likely to give some clarity on the day when Telangana will come into being. The central officials are expected to gather information from Mohanty about the preparedness of the state bureaucracy to implement the bifurcation. The top bureaucrat will give his report on how prepared is the bureaucracy to run the affairs of the two states and handle law and order, official sources said. The chief secretary is also likely to brief the home ministry about the preparedness to hold elections in two states. Mohanty already held talks with officials of various departments and gathered information about the cadre to be divided between the two states – Telangana and Andhra Pradesh.
The centre will issue a gazette notification after deciding the appointed day and this is likely before the Election Commission announces the schedule for Lok Sabha elections. Union minister Jairam Ramesh has already stated that the appointed day will be so fixed to enable preparatory work relating to distribution of cadre, finance, assets and liabilities is completed satisfactorily. He hinted that the appointed day may be three months from the date of notification as in the case of Jharkhand, Chhattisgarh and Uttarakhand. The assembly elections in Andhra Pradesh are due along with the Lok Sabha elections. Since it may take three months for the two states to formally come into being, the assembly elections may not be held simultaneously with Lok Sabha polls. Telangana Rashtra Samithi (TRS) is demanding that the elections should be held in two separate states. The central government may impose President's rule or extend the term of the assembly by a couple of months before conducting the assembly elections. The appointed day will be crucial for installing a new government and for conducting the elections. The centre is likely to give some clarity after the meeting on Wednesday. Jairam Ramesh, who was member of Group of Ministers (GoM) on Telangana, said two panels were already constituted to distribute IAS cadre and state cadre officials between the two states. The cadre distribution may prove an uphill task as more than 84,000 state employees are to be allotted to two states. The distribution of assets and liabilities is another big task on hand for the union home ministry. It has already gathered information from departments concerned about the state's finance, assets and liabilities. Some groundwork was done when GoM held consultations with various stakeholders for drafting the bill. As per the bill passed in parliament, the assets and liabilities will be distributed in proportion to the population.
Don't miss the stories
followIndiaVision India News & Information
and let's be smart!