Coalgate: Manmohan Singh says 'more than pleased' with Congress' support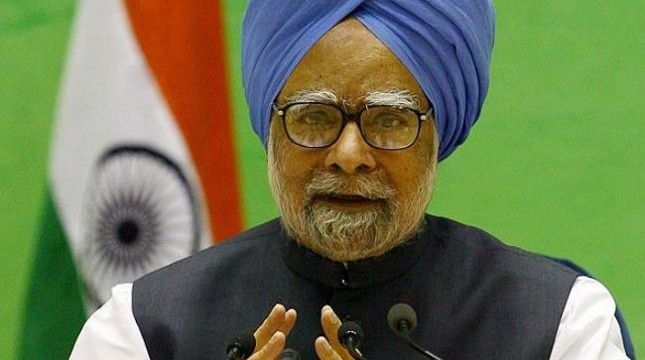 Economy heading towards better times, no reason to despair : Prime Minister Manmohan Singh
New Delhi: The Congress is rallying behind former prime minister Manmohan Singh, who has been summoned as accused in a coal blocks allocation case.
Former prime minister Manmohan Singh has reacted after Congress leaders this morning held a solidarity march in his favour. Singh told reporters in Parliament: "I am more than pleased that Sonia ji and AICC members came to show their solidarity."
Meanwhile, Congress leaders across Uttar Pradesh have stopped trains, protesting the CBI court summons to former prime minister Manmohan Singh in coal scam.
Also Read: Congress workers stop trains across UP to protest summons to ex-PM
We are there to show former PM our support and respect. We are there to show him that we stand with him. We respect judicial process, but at the same time we appreciate that this gentleman deserves all gratitude the nation can offer him, says Shashi Tharoor.
It is not about questioning Dr Manmohan Singh's integrity but his inaction. The government is not misusing any investigating agency – Naidu
Congress needs to explain to the country how all this happened. They should also take responsibility for this, only one individual cannot be blamed, says Union minister Venkaiah Naidu.
Moily adds this is a miscarriage of justice.
The entire Congress leadership called on Dr Manmohan Singh and expressed solidarity with him. This is a ridiculous situation. India is known as a country with rule of law. This can happen only in a country where there is no rule of law – Veerappa Moily
I am confident the summons will stand withdrawn, says P Chidambaram. He adds the CBI has previously said twice that there is ground to file charges against the former PM and that there is no criminal case.
Manmohan Singh is a man of integrity, I am sure he will come out clean, says AK Antony.
Ashwani Kumar says the Congress legal team is already working on the case.
Ajay Maken says it will be difficult to find a more honest person in public life than Dr Manmohan Singh
Ghulam Nabi Azad says the Congress will fight the case in courts.
Also Read: Sonia Gandhi leads solidarity march to Manmohan Singh's residence
We shall fight this legally and with all means at our command. We are sure and convinced that he will be vindicated – Sonia
The Congress party is fully behind him – Sonia
We are here to offer our unstinted support and show solidarity – Sonia
Dr Manmohan Singh ji is known not only in our country but throughout the world as being a person with integrity and probity – Sonia
We are outraged at the news of summons being issued to Dr Manmohan Singh ji – Sonia Gandhi
Sonia Gandhi is now speaking to the press.
Congress president Sonia Gandhi and other senior leaders are now inside Manmohan Singh's residence at 3, Motilal Nehru Marg and are meeting the former PM.
The march has concluded and Congress leaders have arrived at Manmohan Singh's residence.
P Chidambaram, Ajay Maken, Digvijay Singh, Ghulam Nabi Azad are among the Congress leaders who are taking part in the march.
Congress leaders are now marching towards Manmohan Singh's residence from AICC headquarters to show solidarity with the former PM. Leading the march is Congress chief Sonia Gandhi.
Congress sources add party leaders will march to Dr Singh's residence after the CWC meet to show solidarity with the former PM.
Manmohan Singh will not attend the CWC meet, say Congress sources.
A day after a court summoned former prime minister Manmohan Singh as accused in a coal blocks allocation scam, the Congress is going in a huddle to chalk out its strategy.
Congress president Sonia Gandhi has convened a meeting of the Congress Working Committee (CWC) and party MPs at the All India Congress Committee (AICC) headquarters at 9:30 am today.
The Congress meet is expected to deliberate on the strategy to be adopted to defend Manmohan Singh inside and outside the court.
On Wednesday, a special court here summoned Manmohan Singh, industrialist Kumar Mangalam Birla and former coal secretary PC Parakh in a coal block allocation case, terming it a "criminal conspiracy" with the objective to "do an illegal act".
Special Judge Bharat Parashar, after taking cognizance of the Central Bureau of Investigation's (CBI) final report in the case, also summoned officials Shubendu Amitabh and D Bhattacharya of Birla-owned Hindalco on April 8.
Manmohan Singh, also the then coal minister, despite not being named as an accused by the CBI in the original first information report (FIR), was summoned by the court for the alleged offences under criminal conspiracy, criminal breach of trust and provisions under the Prevention of Corruption Act.
All the six accused have been summoned as accused in a case related to allocation of the Talabira II coal block in Odisha to Hindalco in 2005.
Don't miss the stories
followIndiaVision India News & Information
and let's be smart!