Cong didn't want to end poverty as it feared losing power: Modi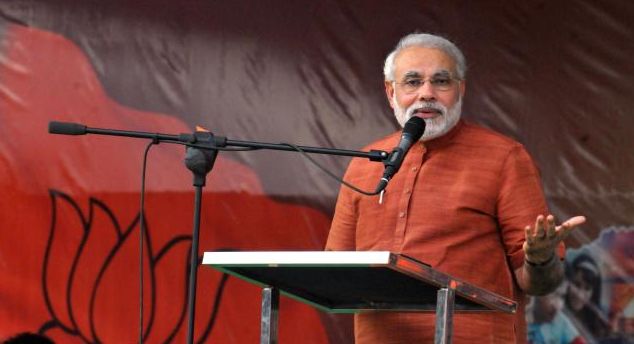 Article 370: BJP defends Narendra Modi, challenges Omar Abdullah for debate
Attacking Congress for "doing nothing for poor", BJP's prime ministerial candidate Narendra Modi on Saturday said the ruling party, over generations never wanted to educate people and eliminate poverty as it was afraid of being stripped of power.
"Congress knows that the moment masses get educated their chairs will be in danger," Mr. Modi said, addressing a poll meeting here on the last day of the campaigning for the November 25 Assembly elections in Madhya Pradesh.
Targeting Nehru-Gandhi family, he said, "Why four generations of a family are saying the same thing (on poverty) but doing nothing for the people of the country."
Mr. Modi alleged that Congress is "not doing anything for the poor because it knows that if the country gets rid of poverty, they will be out of power."
"Whenever elections come, Congress keeps chanting in the name of poor. But they will do nothing (to remove it). If poverty goes, so will their chairs," he remarked.
The BJP leader recalled days of emergency and polls held in 1977 and urged "people to fight the elections".
"I can say after touring Chhattisgarh, Madhya Pradesh and Rajasthan that people are fighting these elections (this time)," he said.
Praising Chief Minister Shivraj Singh Chouhan for removing the BIMARU tag on MP, by launching a series of developmental programmes, Mr. Modi said, "I won't talk of Gujarat. There are two governments, one in Madhya Pradesh and other Rajasthan. See the difference in their work and then decide for whom to vote."
Without naming Congress General Secretary Digvijay Singh, Modi said ten years ago a person had done 'Bantaadhar' (made it worse) of the state, but in the last ten years thing have changed.
Targeting Congress for its "groupism", Mr. Modi said an MP of this region (Meenakshi Natarajan) was locked by the warring factions of the party sometime back.
Mr. Modi claimed that according to his information the lock was opened only when Congress vice-president Rahul Gandhi intervened.
Taking a dig at Digvijay without taking his name, he said a leader of the party these days is telling him about "decency in politics" but it can be recalled that the same person used inappropriate language for describing a local woman MP sometime back.
Don't miss the stories
followIndiaVision India News & Information
and let's be smart!