It is in Congress' blood to divide and rule, says Modi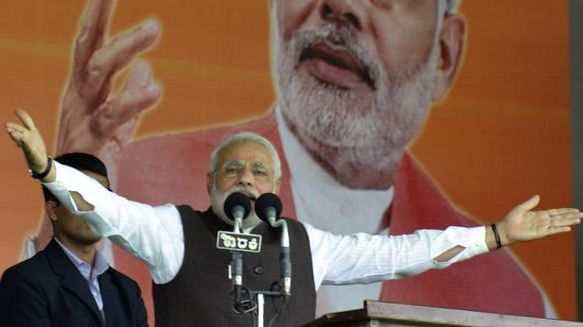 Congress divided the nation: Modi
Guna (Madhya Pradesh) – Bharatiya Janata Party (BJP) prime ministerial candidate Narendra Modi on Monday hit out at the ruling government at the centre, saying it is in Congress' blood to divide and rule.
Addressing a rally here, the Gujarat chief minister said: "Congress divided the country, divided communities. Instead of talking of oneness, they did the exact opposite. They have learnt it from the British."
Modi further criticised the ruling party saying that people who call power poison, are the same people who are never ready to leave it.
"Whenever elections are near, Congress leaders make big promises, they are masters in this," he added.
Earlier in the day, addressing a rally in Chhattarpur, Modi said the nation's citizens would decide in the 2014 elections whether to vote for and support abusers of power, or those leaders who have stood up to challenge the existing system, and seek answers for all that is being done wrong in the name of governance.
"It is certain now that in 2014, there will be a change. We (BJP & NDA) will form the next government," he added.
"There is a Delhi-based group (Congress headquarters) that criticizes my style of speaking. I am not and will never be a part of this elite club. I come from a non-elite family. Just imagine how much Madhya Pradesh will progress if it happens," Modi said.
He also criticised the ruling party, saying that Congress leaders run a factory to manufacture lies
"The Prime Minister says the level of political discourse has been lowered by the BJP. But who has reduced the stature of the PM, the Cabinet and the Parliament? The Gujarat chief minister asked.
"Dear PM you said nowhere does the opposition call the PM 'chor' (thief), but your shehzada (prince – referring to Rahul Gandhi) called the main opposition 'chor'," he added.
Prime Minister Singh had on Sunday criticized Modi for resorting to falsehoods and twisting facts for political gains.
Madhya Pradesh is going to polls on November 25, and results would be announced on December 8, along with those in Chhattisgarh, Rajasthan, Mizoram and New Delhi.
Don't miss the stories
followIndiaVision India News & Information
and let's be smart!