No debate on Lokpal Bill today as Rajya Sabha adjourned till Monday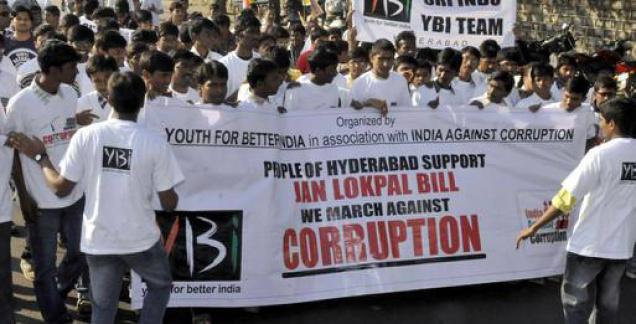 No debate on Lokpal Bill today as Rajya Sabha adjourned till Monday
3.38 pm: RS adjourned till Monday
With the ruckus continuing over the Lokpal Bill and other issues, the chairman finally adjourns the Upper House till Monday.
3.35 pm: SP calls for debate on price rise
SP leader Naresh Agarwal calls for a debate on price rise before a debate on the Lokpal Bill.
3.30 pm: RS reconvenes
After facing repeated adjournments, Rajya Sabha reconvenes for Lokpal debate.
3.05 pm: It's not Lokpal, its Jokepal, says AAP
In the name of Lokpal Bill the Govt is trying to pass a Jokepal Bill. It is trying to betray nation by passing this Bill, says AAP's Manish Sisodia.
2.30 pm: RS adjourned till 3.30 pm amid uproar
Rajya Sabha adjourned till 3.30 pm following ruckus over Lokpal Bill.
2.10 pm: BJP opposed to amended Lokpal Bill
UPA Govt is keen on putting the Lokpal Bill in cold storage, we want law to be made with select panel's recommendations, says Mukhtar Abbas Naqvi of BJP. Mayawati (BSP) too opposes the Lokpal bill, calls for more amends.
1.20 pm: LS adjourned over Telangana
Lok Sabha was adjourned for the day following uproar over various issues, including Telangana.
1.05 pm: Will oppose Lokpal Bill, says SP
Will oppose if Govt tries to pass Lokpal Bill in Rajya Sabha without debate as it will serve no purpose, says Samajwadi Party. SP will support TDP MPs for no-confidence motion against Govt in Lok Sabha on Monday.
12.55 pm: Will oppose diluted Lokpal Bill, says AAP
AAP leader Manish Sisodia says his party will oppose diluted Lokpal Bill as it is technically weak.
12.50 pm: LS adjourned till 1 pm, RS till 2.30 pm
RS Chairman adjourns the Upper House till 2.30 pm as Opposiion MPs continue to stall proceedings and debate over Lokpal Bill. Meanwhile, Lok Sabha was adjourned till 1 pm.
12.35 pm: Lokpal Bill tabled in Rajya Sabha
MoS V Naraynsamy introduces redrafted Lokpal Bill in Rajya Sabha amid huge uproar.
12.00 pm: Both houses reconvene
Both Houses of Parliament reconvene. Opposition MPs try to stall proceedings.
11.45 pm: LS adjourned till noon
Lok Sabha adjourned till noon following uproar over various issues, including Telangana.
11.40 am: Swaraj demands Ganguly's resignation
Supreme Court panel indicted Justice Ganguly, he should have quit but he's sitting like a 'dheet', says Sushma Swaraj.
11.35 pm: BJP raises Justice Ganguly's case
Leader of Opposition in Lok Sabha Sushma Swaraj demands removal of Justice AK Ganguly from WBHRC Chief's post in the wake of his indictment by the apex court panel in a sexual harassment case .
11.30 am: Uproar in LS over Telangana, Js Ganguly case
Seemandhra Congress MPs shout slogans demanding united Andhra Pradesh. BJP MPs demand Justice AK Ganguly's resignation.
11.20 am: RS adjourned till noon
Opposition MPs raise law intern sexual harassment case and demand Justice AK Ganguly's resignation. The Upper House adjourned amid uproar till noon.
11.10 am: RS praises Sachin for Bharat Ratna
Rajya Sabha chairman Hamid Ansari congratulates Sachin Tendulkar for getting the highest civilian award Bharat Ratna.
11.05 am: MPs pays homage to martyrs
The MPs in both houses pay their homage to the martyrs of the 2001 Parliament attack.
11:00 am: Parliament convenes
Both Houses of Parliament met on Friday even as social activist Anna Hazare's fast to press for the Jan Lokpal Bill entered the fourth day.
The government is likely to table the anti-graft bill in the Rajya Sabha today. As per reports, the government plans to move 13 amendments to the bill. On the other hand, the main Opposition, the BJP, while addressing the media expressed reservations about some of its provisions.
The bill was passed by the Lok Sabha last year.
Don't miss the stories
followIndiaVision India News & Information
and let's be smart!