Aam Aadmi Party wins trust vote in Delhi Assembly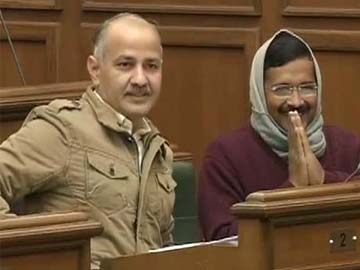 Mr. Arvind Kejriwal's new idea: Abandoned buses as night shelters for the homeless in Delhi
New Delhi –  Arvind Kejriwal, chief minister of Delhi, today proved in the state legislature that his Aam Aadmi Party (AAP) has the numbers to continue to govern Delhi.
To win today's vote, Arvind Kejriwal proved that he has the support of 36 of the 70 members of the Delhi Assembly.His AAP has 28; the Congress has said its eight law-makers will support him. The BJP, which has 31 members, voted against Mr Kejriwal.
BJP speakers, led by Dr Harsh Vardhan in a lengthy speech, attacked Mr Kejriwal for accepting support from the Congress, a party who he has consistently described as corrupt.
The Congress' Arvinder Singh Lovely assured Mr Kejriwal that he would continue to enjoy the support of his party "till you keep taking decisions that benefit the people." He cautioned though that some of the swift decisions that Mr Kejriwal has taken in the last few days should have been better thought through.
Moving the trust motion, minister Manish Sisodia had said all legislators should rise above party lines and support a government which wants to fight corruption and the VIP culture that has infected politics.
Mr Kejriwal and members of his Aam Aadmi Party did not wear their trademark topis or caps for the proceedings today. The BJP has said wearing caps inside the house is disrespectful.
Dr Harsh Vardhan censured Aam Admi Ministers for using metro rides to work as a photo-op. "You are breaking the rules of the metro and causing a security problem for other commuters," he said.
Mr Kejriwal and his ministers have refused to accept police security, government houses, and the lal battis or red lights that give politicians' vehicles the right of way on crowded roads.
In the five days since he was sworn in chief minister, Mr Kejriwal has already announced free water, a 50 per cent cut in electricity tariffs, an audit of the three major power distribution companies in the capital and, in a late evening decision yesterday, new shelters for the homeless within 48 hours.
The BJP said these populist moves are evoking "wah-wah" just now, but the praise will soon fade once it becomes clear that the policies are ill-advised. Dr Harsh Vardhan said that the free 700 litres of water guaranteed everyday to households "will force many to use their neigbours' toilets to save water."
Don't miss the stories
followIndiaVision India News & Information
and let's be smart!