After Delhi, it's B'lore: AAP's huge win suggests it has a future in city governance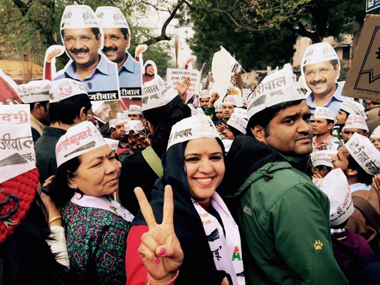 It is good that the Aam Aadmi Party is eyeing the Bengaluru civic body for which elections are due in April this year. Similarly, on a longer timeline, the party, enthused by its spectacular victory in the Delhi Assembly elections, is planning to target the Mumbai civic body elections due in 2017. Bengaluru has less time but finds "a string of similarities" with Delhi to buttress its venture.
There are good reasons why AAP should make forays into civic politics, though politics is not the mot juste. 'Participation' beyond being mere voters would be more appropriate. Civic bodies are smaller entities and touch the lives of a city's residents directly. Local self-government explains the idea a lot more – and it has less to do with law-making and legislatures.
AAP's focus on civic bodies ought to have come much earlier instead of it being merely a follow-through to the Delhi gains. A strong AAP presence in several civic bodies would have provided a substantive base from which to make forays into legislative bodies. If political parties pay attention to municipalities, it is because they see them as the base of the pyramid of their politics.
But there is nothing like success to mimic and how the Bengaluru unit performs would determine future enthusiasm for the party. These announcements of intent have not come from the Delhi leaders, who are still toying with the idea of contesting the Bihar elections due later this year.
No city has ever benefitted because they propped up, even if by rotation, one party after the other in five-year election cycles. Each one has been as bad as the other. Cities look as if they do not have any civic body. What these urban spaces need – as their geographies expand and their numbers go up – is performing, ideology-neutral city fathers with love and concern for the city they live in.
For far too long, the civic bodies have been less self-governed than one would wish. Two years ago I had argued that even elections were getting to be a sham because of "the emptiness of the process: much like buying a newspaper and reading it; much like going to a school and not being taught; much like going to a hospital and not being treated. The people have got used to it and might as well go through it."
It is the welling up of scorn for this arrangement that all of Delhi woke up to on 10 February. Though Delhi has several municipal corporations, the state administration more or less is involved in civic works – schools, hospitals, and such like. The fact that law and order, even land, vests with the Centre makes it just that, the chief minister being only a grandee mayor, which is why the first AAP move has been to demand full-fledged statehood for Delhi.The compact geography of Delhi made it easier for AAP to regroup and win the state which is not what one would expect to happen easily with, say Bihar or even Punjab in course of time. The very issues of pani, bijli and sadak in Delhi are so municipal in their dimensions that their local consultations centred mostly on them. Corruption, being near universal, did figure, as it would have in any set of grievances.
Municipal wards are smaller and hence can enable local participation by the community. This would put away the contractor-politician nexus and even help the city run itself at lower cost. Most of the budgets as of now go towards meeting the padded bills of contractors who only execute poor quality work as a norm.
By allowing politicians to turn scamsters at the lowest rung of democratic politics, the country has enabled a huge pyramid of rascals to emerge and strengthen themselves. If people decide to manage their affairs themselves, this would never have been the case. The state of Indian cities is a reflection of the poor involvement of locals who franchise their rights to politicians.
Civic involvement needn't be full time, but it has become so because city politicians and administrators devote themselves to making money rather than running efficient services for the people.
Other cities have good reasons to learn from the Delhi experience and ask: why have a set of politicians taken over? Why should they elect politicians who let garbage pile up, allow hawkers to take over footpaths, and leave roads, water supply and drainage in poor shape, be allowed to run their city?
Cities are actually less obligated to politicians than they believe. Delhi has shown how and why.
Don't miss the stories
followIndiaVision India News & Information
and let's be smart!