What Delhi poll results say: Birth of Kejriwal 2.0 shows BJP no longer walks on water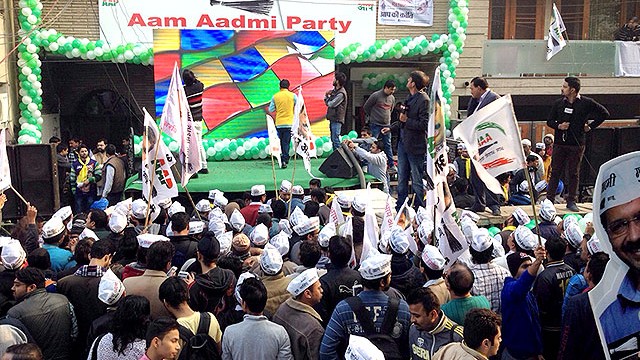 Arvind Kejriwal's spectacular electoral success will bring upheaval back to the politics of Delhi and is a bitter blow to the men who rule India from the capital's proudest precinct.
For the country's overlord, the Bharatiya Janata Party, having AAP in power in Delhi is like having a wart on its nose: awkward but impossible to get out of sight.
It's the first major setback for the top-down approach that the BJP has espoused through state and national elections. The one-man party was pitted against a grassroots movement, and came up spectacularly short.
In truth, perhaps the party wheeled out its star campaigner, Narendra Modi, too late. Before that, there was the disastrous choice of Kiran Bedi as CM candidate, which further alienated a state unit riven by dissent.
The chronology of its campaign went thus: Division and disarray; Bedi and swift disenchantment; Panic, forcing the big guns into service; Prayer; Despair.
The central leadership was forced to wade knee-deep into the campaign mud, something it may have wanted to ring-fence itself from when it chose Bedi. As such, some of the opprobrium from this loss will stick to it.
There is only one other state election this year, in Bihar. Lalu and Nitish will be licking their chops, waiting to target the raw wounds suddenly visible in a party that looked impregnable at the end of 2014.
The BJP had plenty going for it: Good luck with global oil prices acted as a painkiller at the petrol pump, and by extension at the grocery store. A dynamic PM swiftly burnished his reputation as a doer. Delhiites were treated to well-choreographed photo-ops with world leaders.
But one would have expected a party with its love of realpolitik and boots on the ground to know that all this was not enough to win elections against a determined opponent.
The message is clear: No victory can be taken for granted, and the sweat of 2014 needs to replicated proportionately in every state election. Even the strongest wave runs out in a year.
Kejriwal has pulled off a victory few thought possible when he turned tail 49 days into his earlier, undistinguished stint as CM. Lightning has struck the capital twice; now he needs to use it to generate electricity.
Kejri Raj 1.0 was about chaos, self-righteousness and ultimately, hara-kiri. He flip-flopped embarrassingly about taking a large official house; one minister launched a vicious (and regrettably, in a narrow sense, popular) night raid on some black women; others conducted vigilante raids on public institutions. The CM himself sat on dharna against the police, threatening the nation's biggest pageant.
Some of this may have made electoral sense – indeed the earlier AAP gave the distinct impression of using cynical means to attain idealistic ends.
Kejri's second iteration needs to be about governance, and free of the anti-business whiff that inevitably hangs around a grassroots movement. The BJP at the Centre, which controls the city's police, needs to work with him to make Delhi safer.
Delhiites have given Kejri a second chance; unless it is grabbed, it could be the last AAP government in the country.
Don't miss the stories
followIndiaVision India News & Information
and let's be smart!