Delhi poll results show no pro-Modi wave: Nitish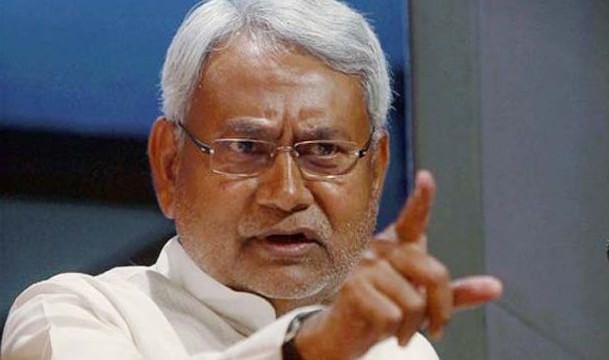 Delhi poll results show no pro-Modi wave: Nitish
The result of Assembly polls in four states was 'anti-Congress', Bihar Chief Minister Nitish Kumar said on Monday but rubbished the Modi-factor for the Bharatiya Janata Party (BJP)'s victory which was evident in its "below par" performance in Delhi.
"There is no doubt that the results in Assembly elections in four states are anti-Congress. But there is no reason for BJP to jump in joy.
"There is no wave in favour of BJP… The results show that BJP performance will be dismal in the Lok Sabha elections," Mr. Kumar told reporters in the Assembly premises.
"The gamble BJP took (by appointing Narendra Modi as its prime ministerial candidate) has doomed it… Delhi is the test case of this," said Mr. Kumar, whose party severed ties with the BJP after 17 years over the elevation of Narendra Modi as party's prime ministerial nominee.
Referring to the poll result in Delhi, he said it threw up a "below par" performance by the BJP when they should have easily gained two-third majority in the event of Congress' rout.
"The writing is clear on the wall for BJP too… It will get a deep shock in 2014 Parliamentary elections as the Delhi assembly election result indicates," the Chief Minister said.
Referring to the stellar performance put up by Aam Admi Party, Mr. Kumar said wherever there will be an alternative other than BJP it will gain from anti-Congress mood in place of BJP.
Since there was no other alternative to Congress other than BJP in Madhya Pradesh, Rajasthan and Chhattisgarh it won.
But in Delhi, where AAP was a third option, BJP failed to form the government despite the "profound anti-Congress environment," Mr. Kumar said.
Congratulating AAP, he said "it reaped the benefit of anti-corruption agitation of Gandhian Anna Hazare."
Mr. Kumar said it seems that BJP appears to have lost its influence in Delhi, from where its founding organisation Jan Sangh had started work. "Delhi will write its (BJP's) epitaph in the days to come."
Asked if the results would have its echo in Bihar in 2014 general election, the Chief Minister said, "Congress is no factor in Bihar, hence there will be no impact here and BJP has no reason to feel cheerful."
On JD (U)'s poor performance in Delhi, where it had contested on 27 out of a total of 70 seats, Mr. Kumar said "We just made an attempt. We were never a strong contender there."
Asked to comment on the lone JD (U) winning candidate Shoib Iqbal vouching support to AAP in Delhi, he said "We will not allow formation of a BJP government there."
Mr. Kumar said Mr. Iqbal had spoken to him on Sunday and he had his backing.
Continuing his attack on the BJP, Mr. Kumar said only one goal could be achieved at a time. "They (BJP) thought Congress is unpopular so it can be removed and they can sit on the chair.
But, this was the mistake (choosing Modi as PM candidate) whose result they have tasted in Delhi by ruining the chance to form a government there."
Asked about the Third Front and if he was in talks with leaders in this regard, Mr. Kumar answered in the negative.
"I am only in touch with the janata (people) and nobody else," he said.
In reply to a question if his expectation from Congress for special economic status for Bihar was over, Mr. Kumar said, "We gave ample time to them (Congress) and as per our prior decision have gone to the public to provide us support to win special status."
Special status for Bihar is the key poll agenda of JD (U) in the 2014 elections. Formation of a panel under Raghuram Rajan by the Centre and its recommendations putting Bihar in least developed state category had triggered speculations of Congress reaching out to Kumar for Lok Sabha polls.
Nitish suffering from ostrich syndrome: Sushil Modi
Minutes after the Bihar CM rejected the 'Modi factor' in the Assembly elections results in four states, BJP leader Sushil Kumar Modi on Monday countered that the Bihar chief minister was suffering from the 'ostrich syndrome'
"Shuturmurg ki tarah ankhe band kar lene se andhi nahi rukti" (Just by shutting eyes like an ostrich, windstorm does not stop)," Mr. Modi told reporters outside State Legislative Council.
"Had not it been Modi effect, the BJP could not have saved Chhattisgarh fort and won maximum seats in Delhi," he said strongly countering Mr. Kumar's rejection of party Prime Ministerial candidate.
He claimed that people have been expressing views that they supported Aam Admi party in Delhi but would support Narendra Modi in the Parliamentary elections.
Making a scathing attack on Mr. Kumar, Mr. Modi, who served as Deputy Chief Minister in the Nitish Kumar regime when before the split in NDA, said, "JD(U) has been rejected by voters in Delhi even in areas where people from Bihar are in majority and it is sufficient to prove it will happen next in Bihar."
Mr. Kumar was the only leader to canvass for JD(U) candidates in Delhi Assembly elections by helicopter and despite that his nominees performed poorly there.
Don't miss the stories
followIndiaVision News & Information
and let's be smart!