Dikshit backtracks: Never said BJP should form government in Delhi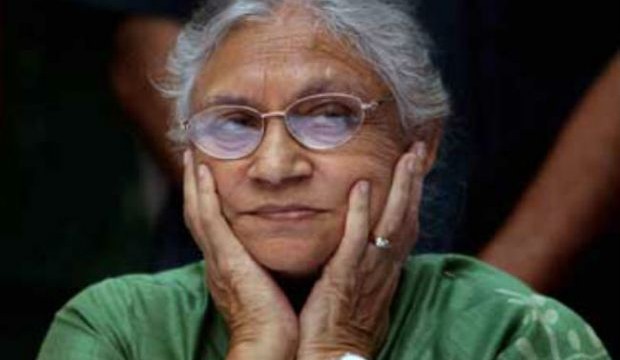 Former Delhi chief minister and Congress leader Sheila Dikshit on Saturday said she never backed BJP to form the government in New Delhi, refuting media reports that quoted her as saying otherwise.
"I never said BJP should form Delhi government. All I said was that if they have numbers they should form the government," said Dikshit.
Talking about her resignation from the post of Governor of Kerala, Dikshit said, "The way a bureaucrat called me asking me to quit was not right. Governor is a constitutional position. I suggest that parliament should come out with a law that when new government comes in old governor should automatically resign. Look how they treated Kamla Beniwal. Why should transfers to Northeast be seen as punishment postings?"
On Thursday, Dikshit had said, "In a democracy, elected governments are always good as they represent the people. If BJP has reached such a situation that it can form government, it is good for Delhi."
Dikshit had further said that "if people's voice is heard, it is good. If they (BJP) form government, they will have to prove majority on the floor of House…"
The 76-year-old leader, who had led Congress to spectacular victories in the Assembly polls of 1998, 2003 and 2009, had said that MLAs, whether they are from Congress, AAP or others, do not want immediate elections.
"As far as I could understand, every MLA, whether he is from Congress or AAP or others, doesn't want an election. People are saying that the MLAs have just been elected and their membership has not crossed even one year. As far as I can understand and people are telling me that they (MLAs) want government to be formed."
She also said that it is not clear yet how the government will be formed.
"It is yet to be seen how government is formed and what challenges will be there for a minority government. And, can they (BJP)cross this and not..it is up to them (BJP)," Dikshit had said.
"In the absence of elected government, people don't know where they should go. And their voice is heard nowhere," she added.
Delhi Congress had immediately distanced itself from Dikshit's "shocking" statement, saying it is her personal view and doesn't represent party's stand.
"We are shocked by Sheila Dikshit's statement on government formation. It is her personal views and Congress has nothing to do with it. Our stand is very clear from day one that Congress would not let the BJP form government in the national capital," Delhi Congress' chief spokesperson Mukesh Sharma had said.
Delhi BJP, however, had praised Dikshit for her "straightforward" statement over current political deadlock in the national capital while the Aam Aadmi Party said that it was not surprised as "there is hardly any difference between BJP and Congress."
Delhi BJP chief Satish Upadhyay had said, "She (Dikshit) is a very senior leader and ran government in Delhi for 15 years. She has experience to run government and knows constitutional norms very well.
"I praise her for her straightforward statement. She has given this statement carefully. It is not about whether a government will be formed or not, but how you are behaving in politics."
Reacting strongly to Dikshit's comment, Aam Aadmi Party senior leader Ashutosh had said, "I am not surprised by Sheila Dikshit's statement because we have been saying for a long time that there is good understanding between the BJP and the Congress… and there is hardly any difference between BJP and Congress."
Don't miss the stories
followIndiaVision News & Information
and let's be smart!