A feverish welcome for Indian diplomat Devyani Khobragade in hometown of Mumbai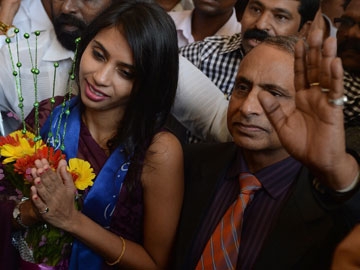 Mumbai –  For the crowd of about 60 people waiting at the airport Tuesday for Devyani Khobragade, the Indian diplomat who was indicted in the U.S. on charges of visa fraud, the gathering was as much a show of support for Khobragade as it was a protest against the Americans who, in their view, had humiliated her and her country.
Khobragade flew into Mumbai, her hometown, from New Delhi, where she had arrived last week from the U.S. "I am thankful to my city Mumbai for the love and support," said Khobragade, who was accompanied by her father, Uttam Khobragade.
Many in the crowd were members of the Republican Party of India, and held party flags, elaborate floral bouquets and balloons, and chanted slogans like "Long live Devyani Khobragade, Long Live India" and "Down With America, Down With Barack Obama."
The Republican Party is associated with India's Dalit community, formerly known as untouchables, of which Khobragade is a member. Before heading to her parents' home in Versova, a northern suburb, Khobragade visited a memorial for B.R. Ambedkar, India's foremost Dalit leader, at Chaitya Bhoomi in the central Mumbai neighborhood of Dadar.
At the airport, the Republican Party's vice president for Mumbai said members were there to protest "the injustice that has been done to Devyani Khobragade in America, the wrong accusation that has been put on her and the disrespectful way in which she was arrested." Ishwar Tayade, the party official, added, "We have ransacked and vandalized outlets of American fast chains in Mumbai such as McDonald's, Domino's and KFC, as we are protesting American products."
He said Khobragade's father had given the organization notice that they were arriving on Tuesday, and the party decided to show up in support.
Though the crowd of well-wishers was loud and enthusiastic, the turnout was far lower than the 2,000 that Uttam Khobragade had predicted to a reporter on the morning of his daughter's arrival in New Delhi.
Among other supporters at the airport were members of the Bahujan Karmachari Mahasangh, which advocates on behalf of lower caste workers and has Uttam Khobragade as its president, and the Samata Shikshak Parishad, an organization of teachers that counts Uttam Khobragade among its advisers.
At times, the crowd chanted in Hindi, "Down with America, which mistreats women!" People held posters that read, "Welcome great Indian Devyani," and "We are proud of you Devyani Khobragade, we Indian."
"We are protesting the mistreatment that Devyani Khobragade has suffered on the hands of the American government, and we want to put pressure on the government to stop the incorrect inquiry against her that is ongoing in America," said Chandrakant Gaikwad, a representative of the teachers' group, which is based in Nashik, 100 miles east of Mumbai. "I am proud of the Indian government for the decision taken by them; they are giving a reply to the American government in their language."
Some in the crowd said that Khobragade had not received as much support from fellow Indians as she deserved because people were prejudiced against her caste.
"The women's organizations in India should have agitated in support of Ms. Khobragade as they did for Nirbhaya," said H.B. Tayde, an adviser to the workers group, referring to the 23-year-old New Delhi woman who died after being brutally raped in 2012. "The message is that because she is a Dalit, the women's organizations are not backing her. America does not recognize backward or forward classes but Indians should keep it in mind."
About 25 police officers stood ready to control the crowd while local reporters and television crews positioned themselves a couple of hours before Khobragade's scheduled arrival. Each time someone walked out of the arrivals gate, television crews would ready their cameras and onlookers would press forward in anticipation.
One television reporter, who asked that her name and station not be identified, said Uttam Khobragade had called the station to request news coverage. "He calls all the stations," she said.
When Khobragade and her father finally appeared, television reporters and supporters swarmed around them. Her father, a retired bureaucrat in the Maharashtra state government, suggested he has political ambitions.
"I have been in talks with the political parties for a while," he said to the cable network IBN Live. "I could fight 2014 elections."
He added that Devyani Khobragade would remain in the Indian Foreign Service and was not considering joining politics.
Don't miss the stories
followIndiaVision India News & Information
and let's be smart!