Haryana CM and his Aam Aadmi Party worry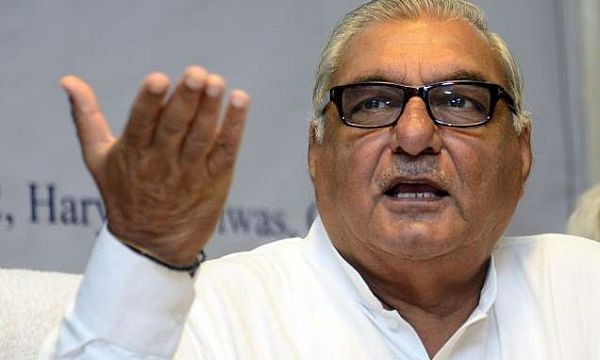 Haryana CM and his Aam Aadmi Party worry
By Jaideep Sarin
Chandigarh – Haryana Chief Minister Bhupinder Singh Hooda seems to have been rattled by the performance of the Arvind Kejriwal-led Aam Aadmi Party (AAP) in the recent Delhi assembly elections.
Considering that a lot of AAP volunteers in the Delhi elections came from Haryana and that Kejriwal's family also belongs to the Bhiwani district of Haryana, Congress leaders in the state have become war! y of AAP's future course of action.
Of course, the AAP, which has its pockets of influence in Haryana, will try to create space in Haryana's politics as well when the state goes in for general elections in May next year and assembly polls in October.
Even though he has, in his "personal capacity", suggested that the Congress should support the AAP to form the next government in Delhi after the assembly results threw up a hung house, Hooda remains dismissive of the AAP's future foray into Haryana's politics.
"This is hypothetical," a visibly snappy Hooda told the media.
Hooda became chief minister for the first time in March 2005 and came for a second tenure in October 2009 with the support of independent and defector legislators. Many things have changed in his style of functioning over the years. But one thing that has not changed is the way he deals with the media.
Despite having an army of Public Relations (PR) officials and media advis! ers at his beck and call, Hooda's media interactions tend to end up on t! he boring side, except for the announcements that he wishes to make once in a while.
The most common phrase that one gets to hear in any of the Hooda briefings, whenever he is asked an uncomfortable question by a scribe, is: "This is a hypothetical question."
Hooda seems to be in love with the word "hypothetical" and dismisses all questions inconvenient to him under this head. Even futuristic questions or impending issues are summarily dismissed by him with apathy by classifying them as "hypothetical".
Other common phrases that Hooda uses at his press conferences are: "Yeh kaisa sawaal hai" (what kind of question is this?), "Law will take its own course", "I have already answered it so many times", "this is no question" and "no comments". He deals with most questions with anyone of these answers.
Most of these answers come from Hooda when he chooses not to answer questions that do not make him comfortable. If a media person persists, Hooda simply! moves to the next question or the situation is saved by a friendly question posed on a completely different topic.
Hooda never misses an opportunity to sermonise the media on what they should report on and how they should function. He has had a love-hate relationship with the media over the years.
Don't miss the stories
followIndiaVision News & Information
and let's be smart!