Indian jailed for 25 months in Little India riots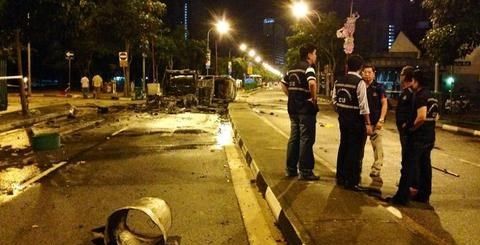 A 42—year—old Indian was on Thursday jailed for 25 months in Singapore for instigating the Little India riots last December, becoming the sixth Indian to be convicted in the country's worst street violence in 40 years.
The prison sentence of Samiyappan Sellathurai was backdated to his arrest on December 15, 2014 at the airport here when he was trying to leave Singapore.
Described as an "instigator" in the riot, Samiyappan admitted to smashing a concrete slab and throwing the pieces at civil defence personnel and public service vehicles while intoxicated during the riot on the night of December 8.
He also smashed a metal rack against a wall at a subway station in Little India to bring it down.
The riot left 54 police and civil defence officers injured and 23 emergency vehicles damaged.
The court heard that onlookers in the crowd around Samiyappan were spurred by his actions and turned into a mob of violent rioters.
Samiyappan left the scene and subsequently left his then—workplace and was on a run. But he was arrested at Changi Airport on December 15 when he tried to leave Singapore on a flight bound for India.
Citing his action, Assistant Public Prosecutor Dillon Kok pressed for a jail sentence of 24 to 30 months with three strokes of the cane.
He urged the court to punish Samiyappan with a "sufficiently stiff sentence" to reflect the courts' and society's "abhorrence of such egregious conduct".
However, defence lawyer Rajan Supramaniam urged the court to impose a custodial sentence of 18 to 20 months.
"He has since realised his foolishness and the gravity of the offence, and deeply regrets his actions," said Rajan.
The riot was sparked by a fatal accident involving a bus and an Indian national who was working in Singapore.
Some 400 migrant workers were at the scene of the riot.
Fifty—two Indians were deported from Singapore for their alleged involvement in the riots.
Twenty—five Indian nationals, working in Singapore on permits, were charged for rioting.
Little India is a precinct of Indian origin businesses, eateries and pubs where most of the construction workers from South Asia spend their weekend and day off.
Singapore courts have to date dealt with 15 Indian nationals, including Samiyappan, with jail terms and deportation.
Five of them have been similarly convicted of rioting, receiving up to 33 months' imprisonment and three strokes of the cane. Samiyappan became the sixth man to be convicted.
Don't miss the stories
followIndiaVision News & Information
and let's be smart!