Modi administers bitter pill, raises passenger rail fares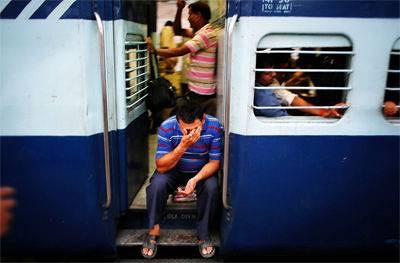 On June 14, Prime Minister Narendra Modi warned of taking bold decisions, ahead of the Budget Session of Parliament, to improve India's economy, adding these might not go down well with some sections. On Friday, the government followed the words with action, with Union Railway Minister Sadananda Gowda increasing passenger fares 14.62 per cent and freight rates 6.47 per cent.
The new fares will be effective June 25.
The passenger segment has witnessed a flat 10 per cent fare increase, across classes. Further, a 4.2 per cent rise was announced under the fuel adjustment component (FAC). For freight, a flat five per cent rise for all major commodities was announced, in addition to a 1.4 per cent rise under the FAC.
The FAC is the dynamic cost variable that takes into account changes in the costs of diesel and electricity.
Friday's moves can be seen as a clear indication that the National Democratic Alliance government will stick to the United Progressive Alliance government's railway policy.
The freight and passenger rate increases have been pending since last month, in wait of a new government at the Centre. On an annualised basis, the fare revision is expected to add Rs 10,000 crore to the Railways' accounts. However, because of the delay in the implementation of the increases, the earnings during the first quarter have been lost.
Corporate India has welcomed the rise in railway fares and freight rates, saying railway finances had reached a precarious position and it was time to bite the bullet on the issue. Chief executives said the 6.47 per cent rise in haulage rates would result in an increase in cement and coal transportation costs, which would be passed to consumers such as power and steel plants and infrastructure companies. According to a Nomura analysis, the rise in passenger fares will add about 10 basis points to Consumer Price Index (CPI)-based inflation, while the freight increase will have a limited indirect impact on the CPI. "WPI (Wholesale Price Index)-based inflation is likely to see a marginally larger impact (the Indian Railways accounts for about 35 per cent of freight traffic in India), as the cost of transporting goods such as coal, cement, oil, steel and food grain will rise. However, the rise will improve the profitability of the Railways and, therefore, it is a move in the right direction," said the Nomura report. Under the FAC, passenger fares have been revised the second time since 2013.
In October 2013, passenger fares were raised by up to two per cent (under FAC) for higher classes and about 3.5 per cent for lower classes, with incremental revenue of Rs 450 crore.
In January 2013, then railway minister Pawan Kumar Bansal had set the ball rolling by raising passenger fares outside the Budget by up to 25 per cent. This was the first fare rise in 10 years. For freight, this is the third rise under the FAC since 2013, apart from the busy-season surcharge levied every year. Under FAC, an increase of 5.7 per cent was announced in April 2013; in October 2013, freight rates were raised 1.7 per cent, amid expectations it would bring in Rs 700 crore. The Railways has also withdrawn short-lead concession for all freight booked up to 100 km, and the minimum distance has been increased to 125 km. Experts say this will potentially impact traffic movement from mines to factories for commodities such as iron ore, manganese and coal. Further, certain concessions for 'low-rated commodities', including essential commodities such as fodder and salt have been withdrawn; the class has been shrunk to three commodities from four earlier.
Don't miss the stories
followIndiaVision India News & Information
and let's be smart!