Modi government to follow UPA policy on FDI in retail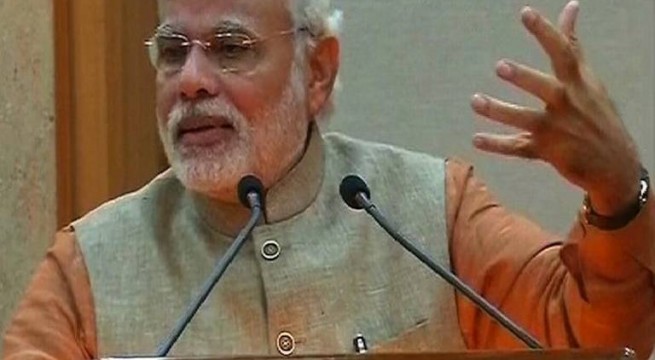 After U.S. President Barack Obama raised the issue of religious intolerance in India, The New York Times published a very strong editorial criticising Prime Minister Narendra Modi for what it calls his "dangerous silence" on a series of communal events in the country. The editorial, by the NYT editorial board, lists recent attacks on churches and reports of Ghar Vapsi or conversion and marks out the Vishwa Hindu Parishad (VHP) for its proposed conversions programme in Ayodhya in March this year, saying the group "was playing with fire." "Mr. Modi's continued silence before such troubling intolerance increasingly gives the impression that he either cannot or does not wish to control the fringe elements of the Hindu nationalist right," the NYT editorial surmised. Full text of the Editorial published in the New York Times on February 6, 2015: What will it take for Prime Minister Narendra Modi to speak out about the mounting violence against India's religious minorities? Attacks at Christian places of worship have prompted no response from the man elected to represent and to protect all of India's citizens. Nor has he addressed the mass conversion to Hinduism of Christians and Muslims who have been coerced or promised money. Mr. Modi's continued silence before such troubling intolerance increasingly gives the impression that he either cannot or does not wish to control the fringe elements of the Hindu nationalist right. Recently, a number of Christian churches in India have been burned and ransacked. Last December, St. Sebastian's Church in East Delhi was engulfed in fire. Its pastor reported a strong smell of kerosene after the blaze was put out. On Monday, St. Alphonsa's Church in New Delhi was vandalised. Ceremonial vessels were taken, yet collection boxes full of cash were untouched. Alarmed by the attacks, the Catholic Bishops' Conference of India has urged the government to uphold the secular nature of India and to assure its Christians they are "protected and secure" in their own country. There is also concern about the mass conversions. Last December, about 200 Muslims were converted to Hinduism in Agra. In January, up to 100 Christians in West Bengal "reconverted" to Hinduism. Hard-line Hindu nationalist groups, like the Vishwa Hindu Parishad (VHP) and the Rashtriya Swayamsevak Sangh (RSS), make no secret of their support for a "homecoming" campaign designed to "return" non-Hindus to the fold. More than 80 per cent of Indians are Hindu, but Pravin Togadia of the VHP says his organisation's goal is a country that is 100 per cent Hindu. The only way to achieve that is to deny religious minorities their faith. The VHP is reportedly planning a mass conversion of 3,000 Muslims in Ayodhya this month. The destruction of the Babri Mosque there in 1992 by Hindu militants touched off riots between Hindus and Muslims across India that left more than 2,000 people dead. The VHP knows it is playing with fire. Mr. Modi has promised an ambitious agenda for India's development. But, as President Obama observed in a speech in New Delhi last month: "India will succeed so long as it is not splintered along the lines of religious faith." Mr. Modi needs to break his deafening silence on religious intolerance.
The BJP-led NDA government may not scrap FDI in multi-brand retail as it had earlier signalled it would, as this could send a negative signal to investors. Instead, the Centre could restrict FDI in multi-brand retail in the country by not letting the Foreign Investment Promotion Board clear any fresh proposals . It is also likely to continue the UPA policy of allowing the states to take a call on whether they want to allow FDI in mom-and-pop shops.
The BJP has been opposing FDI in multi-brand retail in the country and had spoken against it in its poll manifesto. Small traders, who are a significant support base of the BJP, have been vehemently opposing the opening of multi-brand retail to foreign investment.Yet Modi government is looking to take this decision fraught with political repercussions based on the current economic condition of the country. The government is in a sticky wicket and it has only limited leverage to slash subsidies without inviting the wrath of the common man. So it is looking to encourage Foreign Direct Investments (FDI) to take care of the mounting deficits.
The excuse given will be that continuity should be maintained in broad policy decisions so that no negative signals are given to the foreign countries. But in reality, this likely decision will be the first time Modi will be encashing the majority he enjoys to get his writ over Sangh and other members of his party who may well be ideologically against FDI.
One suspects that the largely muted response to the Budget from the industry has also played a crucial role in rethinking of this stance.
Although virtually no industrialist publicly aired their disappointment over the budget and showered their platitude but Dalal Street finished on red that day and continued its free fall for two more days.
The analysts found the budget short of promises and political bravado. Increasing caps on FDI in insurance and defence also received tepid response.
Thus the need of the hour was to give a clear indication of government's intention to the industry. By continuing with UPA's policy on FDI retail, Modi probably wants to give the message that he is willing to breach the Lakshman Rekha and go the extra mile to reach out to the industry particularly the foreign investors.
It will be interesting to see if BJP ruled states do actually go on to implement this policy and open their doors to multi brand retails to do business. All eyes will be on Vasundhara Raje who promptly scrapped Gehlot government's policy to invite multi brand retail after coming to power in Rajasthan. If Raje now decides to change her decision again it will be the clearest indication that other BJP ruled states will also follow suit.
Modi even during his stint as Chief Minister of Gujarat frequently went against the wishes of Sangh Parivar for the sake of governance. His slogan of "Pehle shauchalya, phir devalaya" didn't go down well with the Vishwa HIndu Parishad (VHP). But he stuck to his guns. So it will be not entirely out of character for him to go ahead with a decision if he believes he can accrue leverage from it, even if it is contrary to the party line. In the run up to the elections he sort of alluded that he is not entirely rigid in his stance in the retail FDI issue. But BJP officially has continued to oppose FDI in retail.
Modi is currently ​trying to tread the fine line between populism and reform, party and the market. He has the numbers on his side and his trusted aide as the party President to quell any dissent. Whether his decision will actually lead to rejuvenation of economy though remains a question. BJP-ruled Rajasthan and Delhi, formerly under the AAP, had withdrawn permission given by the earlier Congress governments to allow FDI in multi-brand retail in these states. The Congress-led UPA government had gone all out to allow FDI in multi-brand retail.
Due to political opposition to FDI in multi-brand retail, the world's third-largest retailer, Tesco, is the only global player which has shown interest in setting up retail stores in India. Wal-Mart and other global players have till now not applied to enter the multi-brand retail sector in India. The UK-based retailer has proposed to pick up a 50 per cent stake in Trent Hypermarket Ltd, a Tata Group enterprise, to engage in multi-brand.retail trading. The proposal was cleared by the FIPB in the UPA period.
The states which had supported the Congress decision earlier on FDI in retail include Maharashtra, Delhi, Jammu and Kashmir, Haryana, Rajasthan, Uttarakhand, Andhra Pradesh and Assam — all ruled by the UPA then. As per the Centre's decision, foreign retailers will only be allowed to set up shop in cities with a population of over one million.The Modi Government's new stand on FDI in multi-brand retail is unlike that it had taken in the run up to the elections. When in Opposition, the BJP had said it will reverse this policy if voted to power."The Centre's FDI policy gives States the freedom to decide whether or not to permit it in multi-brand retail… the Modi Government will not touch this," high-level sources told The Hindu.
The Modi Government also decided to carry on with the UPA Government's initiative of Aadhaar card for targetted schemes, unlike the position the BJP had taken on these individual identification numbers during the election campaign. The only difference is that the Modi Government will issue Aadhaar numbers to Indian citizens.
Don't miss the stories
followIndiaVision News & Information
and let's be smart!