Modi says people of UP can bring 'Ram Rajya'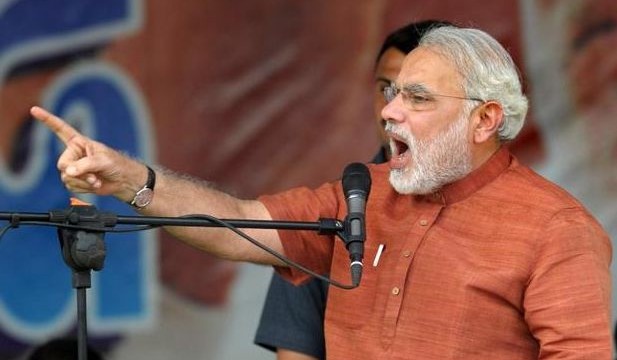 Narendra Modi shares his vision of 'brand India' in 5 Ts
Narendra Modi, who had consciously avoided reference to the Ram Temple issue in his earlier public meetings in Uttar Pradesh, on Friday appeared to be making a veiled reference to it by speaking of bringing in 'Ram Rajya'.
Addressing a public meeting in the temple town of the state, which sends the largest number of 80 MPs to the Lok Sabha, the BJP prime ministerial candidate said if the people want they can see the return of 'Ram Rajya' which started from this land by voting for the right party.
"I have faith in the people of Uttar Pradesh. Your ancestors had established Ram rajya. Had the people not been empowered, there would never have been 'Ram Rajya' here. The state has all that is needed for 'Ram Rajya'. The strength, tradition and will needed for establishing Ram rajya is there in you," Mr. Modi said.
"If still there are problems here it is because you have not chosen the right government. I have full faith that the day you do so, this (Ram Rajya) can become a reality," he added.
Mr. Modi raised emotive issues, including the cleaning of the holy Ganga — referring to the river as "maa", creating employment for locals involved in the handloom sector, farmer issues and employment opportunities for the youth and the poor.
He said his government in Gujarat had cleaned up the Sabarmati river, which used to be highly polluted a decade back, with the clean water of Narmada and asked why the same could not be done with river Ganga.
Mr. Modi also hit out at Congress and the Nehru-Gandhi family, blaming them for poverty, unemployment and corruption plaguing the country.
Hitting back at Prime Minister Manmohan Singh over his charge that some parties make promises that lie outside the realm of possibility, Mr. Modi said he does not make empty promises and the BJP is going to the people with firmly grounded intentions.
Earlier, he paid obeisance at Sankatmochan and Vishwanath temples.
"We are not the people who make empty promises. We have not come to you with promises but with intentions. The country is bored of promises. It is time for bringing forth well-grounded intentions," Mr. Modi said.
He targeted Congress for making promises and then failing to deliver at a huge cost to the exchequer. Citing the example of Ganga Action Plan which was envisaged during the Prime Ministership of Rajiv Gandhi for cleaning the polluted river, Mr. Modi said though thousands of crores have been spent the river is still dirty.
"I request the Prime Minister to share detailed accounts with people and answer them on how many thousands of crores of rupees were spent on the project to clean Ganga — an issue on which you (Congress) have tried to seek a new identity and asked for votes since Rajiv Gandhi's time," Mr. Modi said.
The Prime Minister had said in his address at the Congress Parliamentary Party meeting on Thursday that some political parties make promises which "lie outside the realm of possibility" and his party should avoid it.
In another dig at Mr. Modi, he said Congress should not simply talk of firm leadership and decisiveness without talking of what the leadership will be used for and what decisions will be taken.
Mr. Modi retaliated on Friday saying while people voted Congress to power hoping something will be done to clean the Ganga, but its waters have only become more polluted.
"Several plans and committees were formed but it seems money has been swept away like the waters of Ganga. In last five years, only three meetings were held and no work has been done."
Flagging local issues and government's failure to deal with them, BJP's prime ministerial candidate said while Congress and the SP government in Uttar Pradesh see the state as electorally crucial, his party is concerned about the problems being faced by the people, including farmers and the youth.
Reiterating his call for a creating a "Congress-free" India, Mr. Modi said the results of the recent assembly elections show that people have lost their patience and are aggressively demanding that this government should be thrown out. "Those who have exploited you should be uprooted," he added.
He also alleged that "one family" is responsible for the pain being suffered by the people.
"As the (Lok Sabha) elections are nearing, Congress is talking repeatedly about poor…Had the party (Congress) really felt their pain, there would have been no poor in the country in the 45-year rule of a family", Mr. Modi said while addressing "Vijay Shankhnad" rally here.
"If anyone is responsible for poverty, it's a single family. It also shows in their mindset", Mr. Modi said.
Mr. Modi also slammed Mr. Rahul Gandhi on the issue of poverty and SP MP Naresh Agarwal for saying a tea-seller cannot become the Prime Minister.
"I am suprised that they are openly saying a tea-seller cannot become the Prime Minister. If people give their blessings, then a weaver, a farm worker or even a shoeshine man can become the Prime Minister," Mr. Modi said.
Don't miss the stories
followIndiaVision News & Information
and let's be smart!