Muslims in Chennai observe 'black day' on 22nd anniversary of Babri Masjid demolition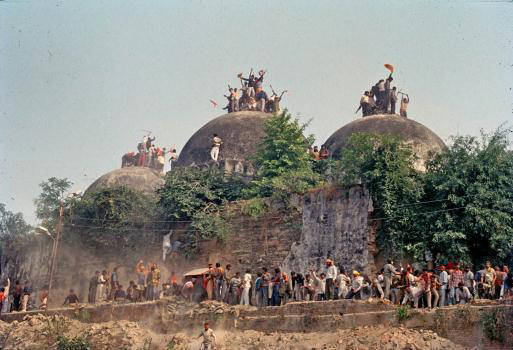 Marking the 22nd anniversary of the demolition of Babri Masjid, the Tamil Nadu Muslim Munnetra Kazhagam (TMMK) on Saturday observed a 'black day' in Chennai.
"We are all here to remind the nation of the darkest deed done by the darkest people in history. The criminals who have demolished the Babri Masjid are not only free but now they are in power. Hence the danger is multiplied and this means that they will misuse the power to rob, deprive the rights of the minorities in India," said a protester.
"All the secular, right minded, patriotic forces must stand together and see this uncivilized group that has come to power is unseated as soon as possible and the heart born freedom of India is sealed," he added.
The members held a mass demonstration in the city's Chepauk locality which was headed by TMMK President.
Thousands of Muslim cadres along with their families participated in the demonstration and raised slogans demanding that the Babri Masjid place should be given back to them.
They also demanded that the case should be concluded soon.
Meanwhile, Bharatiya Janata Party (BJP) leader Subramaniyan Swamy said in Delhi that December 6 should be regarded as a day to forget and should be converted into a day of Hindu-Muslim unity.
Supporting Babri Masjid Ram Janm Bhumi dispute's oldest litigant Hashim Ansari's decision to withdraw his petition, Swamy said, "His decision is good and all petitioners should think that this is a Shia Masjid and all the Shias are in favor of building Ram Temple, its only Sunni Waqf Board which is creating problems. But they should let the Ram temple be built as we will build a nice Masjid for them."
Former Member of Parliament (MP) from Uttar Pradesh Shahid Siddiqui added that the common people are now not interested in the Babri Masjid issue and Hashim Ansari has also asked to stop all this and figure out a solution.
"We need to find a way which will benefit both of them because courts haven't solved the issue so far neither will they do in future. It should be solved as it will be in favor of everyone, so such way should be found out which benefits everyone. Going on the streets with guns is not going to solve anything," said Siddiqui.
Moreover, former Samajwadi Party (SP) leader Kamal Farooqui said that as the case is under Supreme Court, so their final decision should be accepted by everyone.
"We sympathies with Hashim Ansari, he didn't take his petition back, but because he is disappointed that the issue is being politicized so he has refused to pursue it anymore. But he has also said that his children will look after it. But the case will not be affected due to withdrawal of petition of one person," said Farooqui.
"We request the hearing to happen and complete soon. Like every year this time also all the secular and minority communities in the country are observing black day and protesting, its happening everywhere, in Delhi and other places also," he added.
Earlier today, Ansari, who has been fighting this case for the past 65 years, has said that a decision on this case should be taken soon. He had earlier stated that he was not interested in fighting the case anymore.
Expressing his discontent over the politicization of the issue, Ansari had also said that he would not take part in the protest to mark the demolition of the structure.
According to reports, he also said that he wanted to see Ram Lalla free as it gave him pain when he saw it in a tent.
Adequate security arrangements have been made in Ayodhya on the 22nd anniversary of the demolition, while some Muslim organizations in Chennai are observing a 'black day' today.
Don't miss the stories
followIndiaVision India News & Information
and let's be smart!