O Panneerselvam sworn-in as Tamil Nadu Chief Minister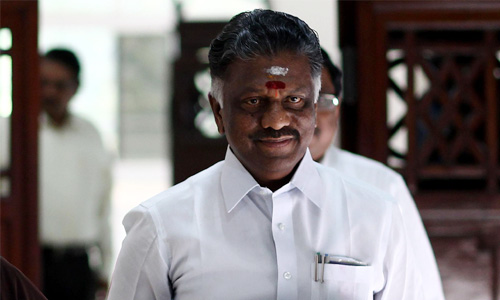 Chennai: After a special court in Bangalore announced its verdict in the disproportionate assets case and sentenced J Jayalalithaa to four years imprisonment, the AIADMK chief's confidante O Panneerselvam will on Monday be sworn-in as Chief Minister of Tamil Nadu.
Yesterday, the party's MLAs unanimously decided Pannerselvam's name after meeting Jayalalithaa at the Bangalore Central Jail and later publicly announced his name for the post of chief minister.
Panneerselvam was earlier made CM in September 2001 when Jayalalithaa resigned following a court order and remained in office for six months until she made a comeback.
Shortly after the announcement, Panneerselvam was invited by Tamil Nadu Governor K Rosaiah to form a government.
As AIADMK supporters massed in hundreds at the party headquarters in the heart of Chennai raised the V sign, AIADMK sources said Panneerselvam would call on Governor K. Rosiah to stake claim for the chief minister`s post.
The development came amid lingering tensions in Tamil Nadu, where a 45-year-old committed suicide by hanging from a tree near Kancheepuram town while a 17-year-old girl student was battling for life in Madurai after setting herself ablaze to protest the jailing of Jayalalithaa.
In Bangalore, AIADMK men and women members gathered in large numbers and refused to budge without meeting their jailed leader. Police refused them permission to proceed to the jail where orders have been imposed banning the assembly of five or more people.
Carrying posters with pictures of `Amma`, demonstrators from Hosur, Krishnagiri and Dharmapuri districts of Tamil Nadu staged noisy protests on Bangalore`s outskirts.
"We won`t go till we are allowed to meet Jayalalithaa. She did so much for our welfare. It is unfair to jail her," a group of women screamed.
Earlier Sunday, Jayalalithaa told a few cabinet ministers who called on her in jail to convene a meeting of all legislators in Chennai and elect a new leader to serve as chief minister, an AIADMK leader told IANS.
The meeting lasting a hour was held over breakfast in the visitors` room of the Bangalore Central Jail.
Jayalalithaa was jailed late Saturday after a special judge sentenced her to four years in prison for amassing wealth illegally when she was chief minister in 1991-96. She was also fined Rs.100 crore.
Jayalalithaa`s lawyers are expected to meet her later to discuss remedies to secure bail from the high court.
After spending Saturday night in a special cell in the jail`s women`s wing, the 66-year-old Jayalalithaa woke up at 5.30 Sunday and took a brisk walk on the lawn.
"She is fine. She had sugarless coffee and went through three Tamil newspapers and an English daily that her personal assistant brought for her," a jail official said.
The jail warden, however, refused to allow a special chair brought from Chennai for the use of Jayalalithaa, who suffers from back pain.
"As per the prison manual, we cannot allow outside things like furniture unless the court permits and doctors recommend," the warden said.
In Chennai, DMDK leader A. Vijaykant met Tamil Nadu Governor K. Rosaiah and sought protection for political parties in the state against violence unleashed by AIADMK cadres.
"I sought protection for all the parties in the state," Vijaykant said, after AIADMK supporters allegedly attacked rival political leaders as well as their homes and offices following Jayalalithaa`s jailing.
Across the state, AIADMK supporters forced shopkeepers to down their shutters. Two government buses were set on fire. Traffic on the roads was thin.
But the situation was better in Tamil Nadu Sunday, compared to late Saturday.
Buses and shops were open in some cities but bus services in Salem, Cuddalore, Villupuram and some other cities did not operate. Bus services from Tamil Nadu to Karnataka remained suspended.
Don't miss the stories
followIndiaVision News & Information
and let's be smart!