Phailin fizzles out in Odisha, AP; leaves behind trail of destruction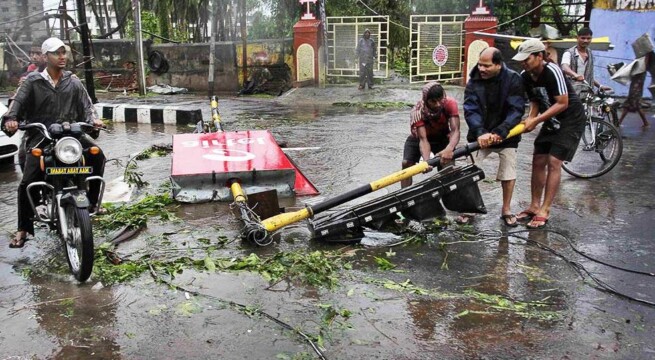 Phailin fizzles out in Odisha, AP; leaves behind trail of destruction
Cyclone Phailin left a trail of destruction in Odisha, destroying lakhs of homes affecting nine million people, flattening paddy fields and wrecking the vital Gopalpur and Paradip ports but human casualties were limited as close to a million people took refuge in shelters.
n both Odisha and neighbouring Andhra Pradesh, more than 900,000 people were taken to safety and housed in government buildings and temples in the country's biggest ever evacuation.
The cyclone, India's worst in 14 years, ebbed on Sunday after making landfall in Odisha's beach town of Gopalpur around 9 pm on Saturday. The storm that remained in the "very severe category" – wind speeds of 210-220 km an hour – till 2.30pm Sunday.
But, by evening it had weakened into a "deep depression", with the wind speed of 45-55 kmph and had moved northward into Jharkhand and Bihar, said the meteorology department.
Phailin (sapphire in Thai and pronounced pee-lin) affected 145,110 villages in 12 coastal districts of Odisha, where the death toll has risen to 20.
Most of the victims were crushed under falling trees. The government, however, confirmed only 14 deaths. Two deaths were reported from Andhra Pradesh, which was expected to be hit hard by the cyclone but escaped its fury.
"There are 13 deaths in Orissa and one in Andhra Pradesh. So we have been able to keep the death toll to a bare minimum," said vice chairman of the National Disaster Management Authority Marri Shashidhar Reddy.
A preliminary report by the Odisha government said 2.34 lakh mud-and-thatch homes, mostly owned by fishermen and farmers, were damaged, storm surges from the sea submerged crop in five lakh hectares, 13 electric and two BSNL mobile towers were toppled and a power grid destroyed, plunging large parts of the state in darkness.
Power supply to most districts brought on by evening barring Ganjam district that saw maximum deaths and destruction. Along the highway through the district, the countryside was ravaged.
Five lakh hectares of farmland were damaged, while 9 lakh trees were uprooted across seven coastal districts, with Ganjam again being the worst sufferer.
"Our priority was to save lives and I think we've been successful," Odisha chief minister Naveen Patnaik said, adding rehabilitation of the displaced people would be a "challenge".
The clean-up and rebuilding will be an expensive exercise. The all-weather Gopalpur port has suffered losses of Rs. 200 crore and building it back would cost "four times as much", port director MM Moharana said.
t is a huge blow — not just to business but also to livelihoods. The port employees 5,000 people.  Some 300 km away, at the Paradip port officials are yet to assess the damage but the main building has taken a hit.
Personnel of Odisha Disaster Rapid Action Force and National Disaster Response Action Force managed to clear some roads but many rural areas were still inaccessible, a government official said.
In Andhra Pradesh's Srikakulam, most of the 65,000 people who were moved to safer places had returned home by evening. Initial assessment of damages said road stretches on national highways measuring 18 kilometres and 400-km of electrical lines were damaged. Officials said paddy crop over 7,500 acres, coconut plantations over 3,200 acres, 929 acres of cashew and 46 acres of papaya plantations have been damaged.
Hundreds of mudhouses and thatched-roofed houses were blown away even as Vamsadhara, Boudha and Nagavalli rivers continued to swell.
Meanwhile, Bhubaneswar airport resumed flights on Sunday noon. Operations were on to rescue those trapped under the debris in Odisha and Andhra Pradesh, where more than 3,000 personnel of National Disaster Response Force have been deployed.
More than a dozen coastal villages have been submerged by the cyclone that was classified as a Category 4 storm on a scale of 1 to 5. Eight of the 14 deaths confirmed by the government came before the cyclone. The victims were crushed under trees uprooted by gusty winds.
News of Phailin had been making headlines since it was formed in the Bay of Bengal earlier this week and churned its way across the high seas, turning into what many feared could be a repeat of the super-cyclone of 1999, which killed more than 10,000 people and left behind such destruction that took years to be undone.
Don't miss the stories
followIndiaVision News & Information
and let's be smart!