Police should pro-actively prevent attacks: Meghalaya CM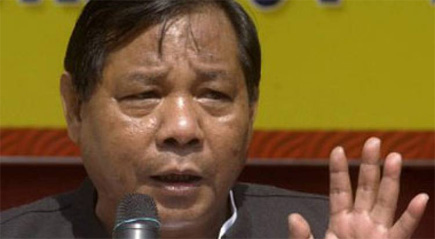 Police should pro-actively prevent attacks: Meghalaya CM
Shillong – Chief Minister Mukul Sangma Monday asked the Meghalaya Police to play a pro-active role to improve the law and order situation. The chief minister said this following a series of attacks with petrol bombs.
"The law enforcing agency must be much more pro-active, and there must be a visibility of the impact of law, so that fear for law starts developing in the st! ate," Sangma told journalists.
"It is also important for responsible leaders of the state to refrain from making any inflammatory speeches and from acting in a manner which may be interpreted as an attempt to incite and instigate communal tension," he said.
The chief minister said the police is examining different aspects of the recent attacks.
The police suspect that groups demanding introduction of the Inner Line Permit (ILP), a British-era law to contain migration of outsiders to the state, were behind these attacks. The groups, however, have rubbished the allegation.
Meghalaya, particularly the Khasi-Jaintia Hills region, has witnessed several cases of arson since Sep 2 after talks between Chief Minister Mukul Sangma and pro-Inner Line Permit (ILP) pressure groups reached a dead end.
On Saturday, unidentified assailants set ablaze tea stall owner Bisheshwar Das, 45, after lobbing a petrol bomb inside his tea shop at Bishnupur Bazaar ! in Shillong.
Sixteen hours later, the miscreants again hurled p! etrol bombs at the residence of Avishek Chettri and at the house of Chandrabala Chettri inside the Sulleman compound near the Lumdiengjri police station.
Meghalaya Home Minister Roshan Warjri, meanwhile, said that the law and order situation is totally under control in the state capital: "We have beefed up security in sensitive areas to prevent violence," she told IANS.
She promised that perpetrators of the attacks would be brought to book and will be dealt with firmly as per the law.
Warjri also appealed to the people to come together against such acts of violence.
So far, no one has been arrested for either incident.
In earlier incidents, businessman Vikas Nandwal was set on fire Oct 9 by assailants who poured petrol over him inside his machinery store. Nandwal suffered 60 percent burns and died in a New Delhi hospital Oct 26.
Wankerlang Jyrwa and Badonkupar Nongbri, two Khasi Students' Union (KSU) activists, have been arrested i! n connection with Nandwal's death.
But Civil Society Women's Organisation, one of the 14 groups demanding the introduction of the ILP system in Meghalaya, accused the police of "selecting" the perpetrators in many arson cases.
"The incidences of petrol bombs being hurled seem acts of personal vendetta and the perpetrators were very selective. It seems someone is trying to distort the ILP demand with all these dastardly acts of terrorism," CSWO chief Agnes Kharshiing said while condemning the cowardly act of arson on tea stall owner Bisheshwar Das.
The fourteen organisations, including the KSU, the Federation of Khasi, Jaintia, Garo People and the Hynniewtrep National Youth Front, demanding the introduction of the ILP system say its absence would result in unchecked migration to Meghalaya, given the state's proximity to Bangladesh and Assam.
District police chief of the East Khasi Hills, Maria Hom Kharkrang, said: "We strongly suspect that these ! (petrol bomb) attacks were carried out by the pro-ILP groups with an in! tention to create disturbance in Shillong."
ILP is an official travel document issued by the union government allowing inward travel of an Indian citizen into a protected/restricted area for a limited period. It is obligatory for Indian citizens from outside states like Arunachal, Mizoram and Nagaland to obtain a permit for entering restricted areas there.
However, the Meghalaya chief minister has ruled out re-introduction of the ILP to check illegal migrants from Bangladesh but has promised strict laws to curb infiltration.
Don't miss the stories
followIndiaVision India News & Information
and let's be smart!