Population, capacity should dictate size of state allocation: Jayalalithaa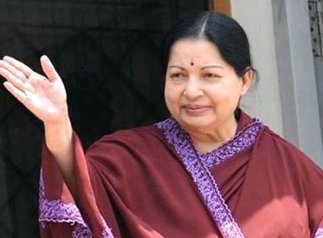 Population, capacity should dictate size of state allocation: Jayalalithaa
Chennai – Tamil Nadu Chief Minister J. Jayalaltihaa Monday suggested that the 14th Finance Commission give one-third weightage each to population, fiscal discipline and fiscal capacity as a formula for distribution of resources among states.
She also urged the commission to reject outright the report of the Raghuram Rajan committee — submitted before Rajan became governor of the Reserve Bank of India — that formu! lated a new index for determining the backwardness of states for financial assistance.
Jayalalithaa, speaking during a meeting with officials of the 14th Finance Commission in the Tamil Nadu capital, said: "The commission should independently make its recommendations without getting pressured by such misleading and unnecessary inputs."
"A committee set up by the union finance minister under an executive order can never substitute the constitutionally mandated process of the Finance Commission," she pointed out.
"It is in this context that I make my suggestion for a simple, robust and equitable formula for distribution of resources among states. One-third weight may be assigned to each of the following criteria: First, population based on the 1971 census; second, fiscal discipline including tax effort and third fiscal capacity distance."
"Many states would suggest elements of the formula that would suit their own interests. I am sure that you woul! d appreciate that my suggestion is well balanced and equitable," she sa! id.
Citing the commission's terms of reference which include suggestions to make statutory provisions to insulate pricing of public utility services from policy fluctuations, Jayalalithaa said it is fraught with difficulties.
"I doubt whether referring this issue to the commission is within the constitutional mandate, since many of these receipts are outside the Consolidated Fund of states," she remarked.
She said the Finance Commission "needs to make a complete break with the incremental approach of the past."
"It needs to attempt to match expenditure responsibilities and resource needs and thereafter work out what proportion of the resources needs to be allocated to the states as a whole and to each individual state," she said.
"A predictable non-discretionary and non-discriminatory mechanism has to be put in place," Jayalalithaa said.
She urged the commission to consider favourably funds to the tune of Rs.41,408.79 crore as grant! s, including 14 proposals for upgradation of standards of administration and 10 proposals for state-specific needs.
Don't miss the stories
followIndiaVision News & Information
and let's be smart!