Sneak peek at Modi's cabinet: Jaitley as FM, Rajnath for home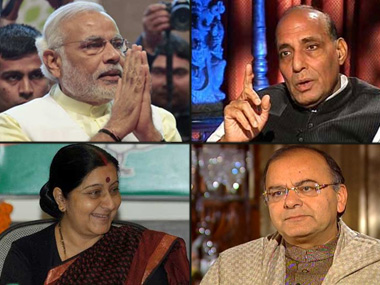 Moments after BJP's parliamentary meet was concluded, Narendra Modi urged Rajnath Singh to accompany him to Varanasi. The BJP President had other work lined up in the day. Nevertheless, he cancelled all plans and decided to go with Modi. More than a symbolic gesture – that of having his party's president by his side while he performs the widely-watched Ganga aarti – Modi and Rajnath decided to do the Varanasi trip together to discuss the look of the Cabinet, say sources. Also, BJP's PM nominee was keen on convincing Singh to take up a portfolio in the cabinet – possibly home. A BJP leader told Firstpost on the condition of anonymity that the first person to take oath after Narendra Modi is sworn in as the Prime Minister, will be Rajnath Singh. By doing that, Modi will send out a strong message that Rajnath Singh will come second, only after him, in the power hierarchy. The process that leads to Modi assuming office as the country's Prime Minister will be set in motion on Tuesday. The 285 BJP MPs will then elect Modi as their Prime Minister. A meeting of allies who are part of the NDA, will be then held. Following which, a group of NDA leaders led by Narendra Modi, LK Advani and Rajnath Singh will meet President Pranab Mukherjee and stake claim on the new government. After a long time, Modi is trying to turn another political philosophy into a reality – the idea that forming the council of ministers is only the Prime Minister's prerogative. Sources say that Modi has been consulting his confidantes Rajnath Singh, Arun Jaitley and Nitin Gadkari to decide on his cabinet, but no one knows for sure what he has in mind as of now. Though there has been widespread speculations about the RSS' involvement and the leaders of the Hindutva outfit have also made their presence felt, they might not have a great say in the cabinet formation, if Modi's style of functioning is anything to go by. On the other hand, Arun Jaitley defeat in the polls will not affect his prospects within the BJP. Rajnath Singh has officially stated that the party will make the most of his expertise. Given that he is still a Rajya Sabha MP, he might still be a part of Modi's cabinet. Unless something completely unforeseen happens, Jaitley is all set to be the next Finance Minister of India. Sources in the BJP have said that Sushma Swaraj wants to head the external affairs ministry. The foreign ministry is one of the most significant ministries of the country and is especially of great importance to Modi, given his history of discord with the West. The external affairs minister also become a part of the Cabinet Committee on Security (CCS). However, given Swaraj's conflicted relationship with Modi, it is not clear what role she would get to play in the government, her expertise notwithstanding. Right before the results were declared, Swaraj had reportedly told Singh and Gadkari that she doesn't wish to be a part of a Modi government – that might go against her now. Given that the massive mandate BJP has clinched is being largely attributed to Modi, there's little room for negotiations by others. A BJP leader said that Modi's critics will have to fall in line or stay out of his way – and this was made clear in the Parliamentary Board meet attended by all top BJP leaders. Another notable face in the government could be SS Ahluwalia, who won from Darjeeling, West Bengal. He is not only the only Sikh MP in the party, he also represents the party in West Bengal, a state where the BJP doesn't have much clout yet. The other BJP MP from West Bengal is singer Babul Supriyo. Shahnawaz Hussain, who was surely supposed to be a part of the cabinet, lost from the Bhagalpure parliamentary constituency. That leaves Mukhtar Abbas Naqvi, a Rajya Sabha MP as the only Muslim face of the BJP in both Houses of Parliament. While Hussain's supporters are rallying behind their leader and have demanded he be included into the Cabinet and later be inducted in the Rajya Sabha, that might not happen. A party leader said since Modi was already making an exception in the case of Arun Jaitley, he was in no position to make a similar exception for anyone else. This might be the lowest the Gandhi family has ever fallen in politics, their BJP counterpart is set for better days ahead. While Varun Gandhi will remain as general secretary, Maneka Gandhi would be inducted in the Cabinet, sources said. Ravi Shankar Prasad will surely have a key portfolio on his shoulders. UP and Bihar is set to witness a strong representation in the Cabinet After all, those are the states that literally handed the polls over to the BJP.
Don't miss the stories
followIndiaVision India News & Information
and let's be smart!