Solar scam a ccused to take Achuthanandan to court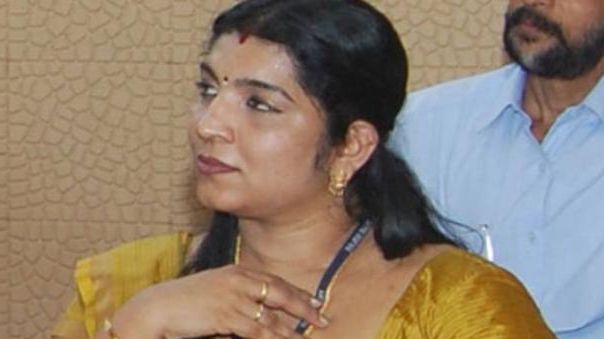 Solar scam a ccused to take Achuthanandan to court
Thiruvananthapuram – Saritha Nair, main accused in what has come to be called the "solar scam" in Kerala, has filed a complaint against V.S. Achuthanandan, leader of the opposition in the Kerala assembly, and three others, her counsel said Saturday.
The woman's counsel Feny Balakrishnan said her client had filed the complaint against the four for speaking ill of her.
Allegations have been made that Saritha Nair has been caught on camera in "compromising positions" with a number of political leaders and senior officials. Many of these allegations were made in the course of interviews on a TV channel backed by the opposition Communist Party of India-Marxist, of which Achuthanandan is a leader.
Speaking to reporters here Saturday after meeting Nair, who is currently in jail, Balakrishnan said the complaint was made Friday. It would be filed before the Ernakulam North Police station Sunday.
!
"She just told me that she has already filed a complaint against Achuthanandan and BJP leader K. Surendran after they spoke ill of her, violating her rights as a woman, after reports surfaced through Jacob Mathew, the so-called counsel of Biju Radhakrishnan (another accused in the solar scam, and a former live-in partner of Nair) told the media that he had seen, and was in possession, of a video that featured Nair and three Kerala ministers and many others in compromising positions. She is deeply upset and decided to file the case," Balakrishnan said.
"The others who have been named in her complaint include Mathew and Radhakrishnan," Balakrishnan said.
Reacting to the news, Surendran said that this is nothing but a ploy of the police and they are making use of Nair.
Mathew, meanwhile, welcomed the news, saying this would be helpful and the video would be released as evidence when the case comes up for hearing.
Achuthanandan is yet to reac! t to the development.
Kerala Home Minister Thiruvanchoor Radha! krishnan told reporters that instead of coming out with threats about the video, those who have it should just release it.
"Those who have been named have also asked for the video to be released. So instead of threats, let them release it," said the minister.
Mathew, early this week, went public and said Nair had recorded the scenes herself, using a pen camera, and the recording was later taken over by Radhakrishnan.
The solar panel scam has been making headlines in Kerala since June 3, when Nair was arrested. Two weeks later, her live-in partner Radhakrishnan was also taken into custody.
The couple allegedly defrauded people by offering solar energy solutions at huge discounts and often lured people into investing in their enterprise by citing acquaintance with people in high office in the state government.
Telephone call records of the couple revealed they had been in close touch with influential people in Kerala.
The state poli! ce have so far charged the couple in 33 cases. In some of them, popular TV actress Shalu Menon was also named as an accused.
Balakrishnan said that once Saritha Nair was released from jail, she would speak with the media and reveal what actually happened.
Don't miss the stories
followIndiaVision India News & Information
and let's be smart!