'A true Gandhian, a giant among men has passed away,' says PM on Mandela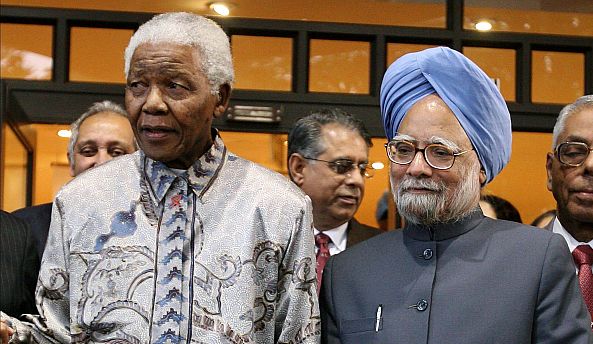 'A true Gandhian, a giant among men has passed away,' says PM on Mandela
New Delhi – Prime Minister Manmohan Singh on Friday mourned the passing away of South Africa's first president Nelson Mandela.
In a statement, Dr. Singh said: "A giant among men has passed away. This is as much India's loss as South Africa's. He was a true Gandhian."
"His life and work will remain a source of eternal inspiration for generations to come. I join all those who are praying for his soul," he added.
Mandela, who guided South Africa from the shackles of apartheid to multi-racial democracy and became an international icon of peace and reconciliation, died at his home on Thursday at age 95.
South African President Jacob Zuma's announcement of Mandela's death late on Thursday shook South Africa.
The streets of the capital Pretoria and of Johannesburg were hushed, and in bars and nightclubs, music was turned off as people gathered to quietly talk about the news.
A sombre Zuma told the nation in a televised address that Mandela "passed on peacefully in the company of his family around 20h50 on the 5th of December 2013".
"He is now resting. He is now at peace," Zuma said.
In his broadcast, Zuma ordered flags to be flown at half mast and said there would be a full state funeral for South Africa's first black president, who emerged from 27 years in apartheid prisons to help guide Africa's biggest economy through bloodshed and turmoil to democracy.
Tributes began flooding in almost immediately from across the world for a man who was a global symbol of struggle against injustice and of racial reconciliation.
Imprisoned for nearly three decades for his fight against white minority rule, Mandela emerged determined to use his prestige and charisma to bring down apartheid while avoiding a civil war.
"The time for the healing of the wounds has come. The moment to bridge the chasms that divide us has come," Mandela said in his acceptance speech on becoming South Africa's first black president in 1994.
"We have, at last, achieved our political emancipation," he had said then.
President Barack Obama hailed Mandela as a leader who left his country with a legacy of freedom and peace with the world.
"He achieved more than could be expected of any man," Obama said at the White House shortly after the announcement of Mandela's death.
"Today he's gone home, and we've lost one of the most influential, courageous and profoundly good human beings that any of us will share time with on this earth," Obama said.
UK Prime Minister David Cameron called Mandela "a hero of our time". "A great light has gone out in the world," he said.
Nigerian President Goodluck Jonathan said the death "will create a huge vacuum that will be difficult to fill in our continent."
Israel's prime minister, Benjamin Netanyahu said Mandela was "one of the most honorable figures of our time … a man of vision, a freedom fighter who rejected violence."
"Today a great freedom fighter, Nelson Mandela has died, one of the world's most important symbols of freedom," said Moussa Abu Marzouk, a senior official of the Palestinian Islamist Hamas group, calling Mandela "one of the biggest supporters of our cause."
In Venezuela, President Nicolas Maduro declared three days of national mourning.
Ordinary South Africans were in shock. They said they had lost a father, a good man, who had good values the nation could look up to. He was a role model, they added.
Mourners gathered outside Mandela's home and spontaneous tributes sprang up around the world.
Outside Mandela's old house in Vilakazi Street, Soweto, a crowd of people, some with South African flags draped around them, gathered to sing songs in praise of the revered statesman. "Mandela you brought us peace" was one of the songs.
Don't miss the stories
followIndiaVision News & Information
and let's be smart!