Be united, else get ready to perish: Antony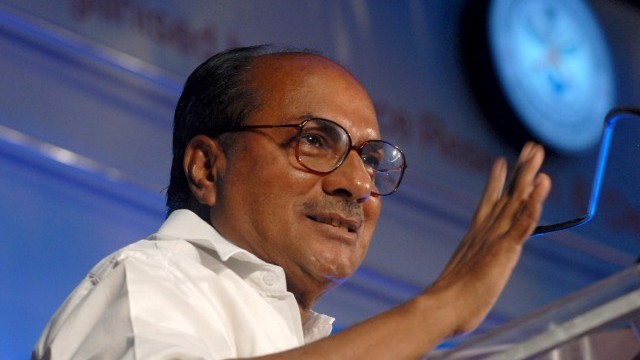 Be united, else get ready to perish: Antony
Thiruvananthapuram – Defence Minister A.K. Antony sternly warned his party colleagues Kerala that if they can't remain united, then they should be ready to perish.
"Look, manifestos are all there and needed and that's just one aspect, but the most vital ingredient is the party should be united and if not, get ready to perish," said Antony at the party headquarters here.
He was speaking soon after receiving a copy of the manifesto prepared by a committee of the state Congress party, to be included in the party's national manifesto, which will be released ahead of the upcoming Lok Sabha elections.
"If we stand united then we will not only gain, but can come up trumps. All of you should work by seeing the writing on the wall and create a conducive atmosphere for the party to reach out to the people. There can be difference of opinion and the need of the hour is for the party and the government to work together. There is no point appearing for discussions on TV channels," said Antony.
He said it was nice to see all party leaders from various factions sitting in front of him with smiles on their faces, but the next time, this smile should also come from within.
Antony knows that the biggest enemy of his party here is factional feuds, as in the 2004 Lok Sabha polls the Congress failed to win a single seat of the 17 it contested in the state.
Human Resource Development Minister M.M. Pallam Raju, also present on the occasion, informed his party colleagues the Congress party was going through challenges in the aftermath of the recent assembly polls.
"We have to stand united and it's the duty of every state unit to work for this to face the challenge," said Raju.
State Congress president Ramesh Chennithala said the committee did a good job and make significant suggestions in the manifesto.
The highlights include 12 cooking cylinders a year at Rs.500 each, 10 litres of monthly petrol at 25 per cent subsidised rates for two-wheeler owners, roll back of decision to give free run to oil companies to fix oil prices, 20 essential commodities be provided at subsidised rates, a Rs.five lakh interest-free loan be given to one member from every family to start a self-employment venture, education loan be made a right to all, admissions to kindergarten and primary schools should be free from capitation fees besides all degree students be given a lap top and the National Rural Employment Guarantee Scheme should now cover 200 days an year and pay Rs.300 daily.
Don't miss the stories
followIndiaVision News & Information
and let's be smart!