Victim is lying about Tehelka cover up, says Shoma Chaudhury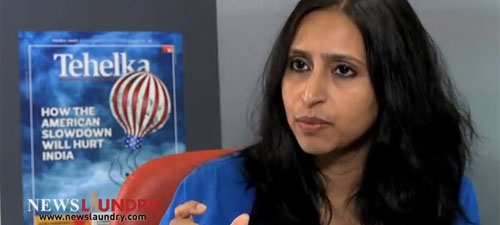 Tehelka's managing editor Shoma Chaudhury has now said that the woman journalist who has accused editor-in-chief Tarun Tejpal of sexual assault is lying and her statement's cannot be a greater travesty of the truth. Speaking to Times Now, Chaudhury said from the moment she received the email alleging sexual assault, her response to the victim has been that of immense concern. "From the time she sent me the email my response to her has been one of immense concern and anxiety to assuage every request that she made…," she said, adding that it was a travesty that people are still accusing her of not standing up for her feminist principles. On being asked why she didn't approach the police the moment the complaint was made, indicating a cover-up for Tejpal, Chaudhury said, "I didn't go to the cops because of my feminist principles… she (the victim) too didn't want to go… if she is now saying that she wanted to go, it is a lie… the correspondence will bring out the truth." She further said that she will, in due course of time, make public a detailed response to her (victim's) resignation letter which will make people realise that what she has said is a lie. "Tejpal stepping down was a global event.. how can anyone call it a cover-up or hushing up? It's sad that after all I have done it has come to a point where she and I stand opposite each other."
Goa State Women's Commission on today demanded that Tehelka editor Tarun Tejpal be arrested along with the magazine's Managing Editor Shoma Chaudhary for allegedly trying to abet the crime. "We demand that Tejpal should be arrested immediately for sexually assaulting a woman in the (hotel) lift," GSWC Chairman Vidya Shet Tanavade told PTI today. Chaudhary, who allegedly abetted the crime by trying to shield Tejpal, should also be booked and arrested, she said. "Chaudhary knew about this crime much earlier. It was her duty to inform the police. She tried to hush up everything to protect Tejpal. It was unfair on her part to do so, especially she being a woman," Tanavade alleged.
A team of Goa Police today formally recorded the statement of the woman journalist, who has alleged sexual assault by Tehelka founder and editor-in-chief Tarun Tejpal, in Mumbai. Media reports suggest that the journalist may now have to travel to Goa to record her statement before a magistrate, as required by law.
Tehelka's senior editor Rana Ayyub has resigned from her post reportedly in protest over how the organisation and its managing editor Shoma Chaudhury have handled the sexual assault case. Last week, Shougat Dasgupta, Ayesha Siddiqa, Jay Mazoomdaar and Revati Laul had resigned from the organisation.
The Delhi High Court today refused to hear Tehelka founder and editor Tarun Tejpal's anticipatory bail petition postponing its hearing to Wednesday. The court also rejected Tejpal's plea seeking protection from arrest till the bail hearing comes up on Wednesday. The court has also issued a notice to the Goa Police, who are currently investigating the case on a suo-moto basis. Tejpal had on Monday filed a petition before the HC alleging that there was political conspiracy behind the allegations of sexual assault and that the woman journalist was lying as the incident was a 'light hearted banter'.
Industrialist Kanwar Deep "KD" Singh, who is also a Trinamool Congress MP, and the majority stakeholder in Tehelka through direct and indirect holdings, has decided to exit the venture completely. According to a report in today's Indian Express, Singh has confirmed that he has around 65 percent stake in Tehelka. "We are going to exit the venture completely. In the past one year, we have divested around 20 percent of it", the newspaper quotes him as saying.
Hours after author and feminist Urvashi Butalia said she would not be a part of the sexual harassment committee, Tehelka has issued a statement saying they are still committed to having such a committee to investigate the matter and will try and persuade some to join the panel. Below is a statement issued by Tehelka this morning: Since last Thursday, Tehelka has requested several people to be a part of the Sexual Harrassment Enquiry Committee in Tehelka, including eminent people like Urvashi Butalia, Inakshi Ganguly, Sharmila Tagore, Justice Leela Seth, Prem Shankar Jha, Uma Chakravarti, Vrinda Grover, and several others. Tehelka has also written to the complainant journalist asking her to suggest some names for the committee but she hasn't replied. However, despite all our efforts, there is a strong sense amongst lawyers and activists that, given that a criminal enquiry by Goa Police was started on Thursday itself and a criminal case has now been filed, an Enquiry Committee would not have any legal standing. Hence, many of the people Tehelka has approached wish to recuse themselves from the committee. We are trying to persuade them to reconsider and remain committed to having such a committee to investigate this matter.
Don't miss the stories
followIndiaVision India News & Information
and let's be smart!