After Wagah blast, Pakistan Taliban faction threatens to target PM Narendra Modi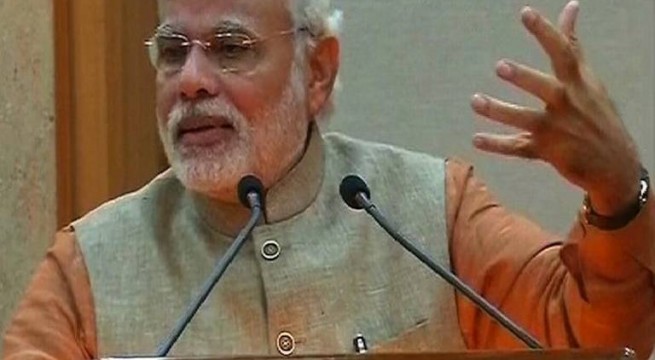 After U.S. President Barack Obama raised the issue of religious intolerance in India, The New York Times published a very strong editorial criticising Prime Minister Narendra Modi for what it calls his "dangerous silence" on a series of communal events in the country. The editorial, by the NYT editorial board, lists recent attacks on churches and reports of Ghar Vapsi or conversion and marks out the Vishwa Hindu Parishad (VHP) for its proposed conversions programme in Ayodhya in March this year, saying the group "was playing with fire." "Mr. Modi's continued silence before such troubling intolerance increasingly gives the impression that he either cannot or does not wish to control the fringe elements of the Hindu nationalist right," the NYT editorial surmised. Full text of the Editorial published in the New York Times on February 6, 2015: What will it take for Prime Minister Narendra Modi to speak out about the mounting violence against India's religious minorities? Attacks at Christian places of worship have prompted no response from the man elected to represent and to protect all of India's citizens. Nor has he addressed the mass conversion to Hinduism of Christians and Muslims who have been coerced or promised money. Mr. Modi's continued silence before such troubling intolerance increasingly gives the impression that he either cannot or does not wish to control the fringe elements of the Hindu nationalist right. Recently, a number of Christian churches in India have been burned and ransacked. Last December, St. Sebastian's Church in East Delhi was engulfed in fire. Its pastor reported a strong smell of kerosene after the blaze was put out. On Monday, St. Alphonsa's Church in New Delhi was vandalised. Ceremonial vessels were taken, yet collection boxes full of cash were untouched. Alarmed by the attacks, the Catholic Bishops' Conference of India has urged the government to uphold the secular nature of India and to assure its Christians they are "protected and secure" in their own country. There is also concern about the mass conversions. Last December, about 200 Muslims were converted to Hinduism in Agra. In January, up to 100 Christians in West Bengal "reconverted" to Hinduism. Hard-line Hindu nationalist groups, like the Vishwa Hindu Parishad (VHP) and the Rashtriya Swayamsevak Sangh (RSS), make no secret of their support for a "homecoming" campaign designed to "return" non-Hindus to the fold. More than 80 per cent of Indians are Hindu, but Pravin Togadia of the VHP says his organisation's goal is a country that is 100 per cent Hindu. The only way to achieve that is to deny religious minorities their faith. The VHP is reportedly planning a mass conversion of 3,000 Muslims in Ayodhya this month. The destruction of the Babri Mosque there in 1992 by Hindu militants touched off riots between Hindus and Muslims across India that left more than 2,000 people dead. The VHP knows it is playing with fire. Mr. Modi has promised an ambitious agenda for India's development. But, as President Obama observed in a speech in New Delhi last month: "India will succeed so long as it is not splintered along the lines of religious faith." Mr. Modi needs to break his deafening silence on religious intolerance.
New Delhi: After claiming responsibility for the suicide bombing at the Wagah border in Pakistanthat killed at least 60 people and left over 110 injured, the Tehreek-e-Taliban Pakistan Jamaat-ul-Ahrar, a splinter group of the Pakistani Taliban, has directly threatened Prime Minister Narendra Modi.
The suicide bombing near Wagah check point in Pakistan has drawn wide condemnation in India, with Prime Minister Narendra Modi tweeting: "Terror attack in Pakistan near Wagah Border is shocking. I strongly condemn such a dastardly act of terrorism."
Responding to the PM condemnation on microblogging website Twitter, Ehsanullah Ehsan, a spokesman for JamaatulAhrar, said: "You are the killer of hundreds of Muslims. We wl take the revenge of innocent people of Kashmir amd Gugrat (sic)."
According to a news agency, Indian and Pakistani intelligence agencies had both picked up plans for an imminent strike on their Wagah land border ahead of the blast. Heightened security possibly averted a more devastating attack.
Reuters also quoted a Pakistani intelligence official as saying: "It appears the bomber wanted to target ground zero where Pakistan and India border officials stand together to perform the flag ceremony but he could not enter due to tight security on the last gate. Had he managed to reach the place, there would have been the worst scenario at both sides."
Meanwhile, an official from the Research and Analysis Wing has been quoted as saying by the news agency that the blast at the border was squarely aimed at Pakistan's security forces.
It is reprisal attacks against the establishment there. It's been a long time coming, ever since the TTP (the Pakistan Taliban) has been under pressure," he said.
He said the attack may have been an attempt by al Qaeda's new Indian Subcontinent wing to demonstrate its potential at a time when the network has been overshadowed by Islamic State, which anecdotal evidence suggests is gathering support in South Asia.
"They have tried to focus on large casualties and a sensational incident," he said.
An Indian official said the Home Ministry received two intelligence warnings in mid-October of possible attacks along the border or at the Golden Temple in the nearby city of Amritsar, the most sacred site for Sikhs.
"Based on these reports the BSF was ordered to upgrade security and a red alert was also issued," said a senior Home Ministry official, who declined to be named because he was not authorised to speak to media.
"Warnings from intelligence departments are a regular feature but this time we had a clear input that the retreat and Golden Temple could be prime targets. This message was conveyed to the local police."
A teenaged suicide bomber blew himself up on November 02 near the Wagah border in Pakistan's Lahore district, minutes after the popular flag-lowering ceremony at the main India-Pakistan land border crossing.
Don't miss the stories
followIndiaVision News & Information
and let's be smart!