No war, says BJP leader Maneka Gandhi after Priyanka's forceful remarks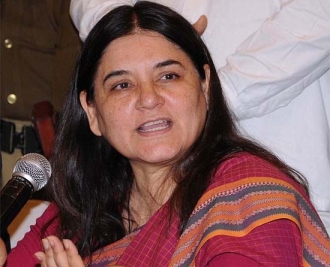 New Delhi/Raebareli – BJP leader Maneka Gandhi tried today to check talk of a growing family feud between her son, Varun, and his estranged cousin Priyanka. "There is no war at all," she told Press Trust of India. "I have no idea what triggered it off," she added, referring to yesterday's comments by Priyanka, accusing Varun of "betrayal."
"They are fighting their own election and my son is fighting his," Maneka Gandhi said. (India Votes 2014: full coverage)
The two factions of the Gandhi family, long divided by their political affiliations, had largely resisted targeting each other so far. Varun and his mother are leaders of the opposition BJP. Priyanka's mother Sonia and older brother Rahul are the top two leaders of the Congress, which is expected to perform abysmally in the national election.
But yesterday, Priyanka said she disagrees strongly with the political values that Varun subscribes to as a BJP member. "This is not a family tea party. It is an ideological war. (I) would not have forgiven my child, if he did something like this," she said. Varun struck back stating that "my inherent decency and large-heartedness should not be construed as weakness by anyone." (Read full statement)
Priyanka, 42, is not running for Parliament but is campaigning in Raebareli and Amethi, the constituencies of Sonia and Rahul Gandhi.
Varun, 34, has relocated his constituency in Uttar Pradesh for this election from Pilibhit to Sultanpur, right next door to Amethi.
Varun is the son of Sanjay Gandhi, the younger of former prime minister Indira Gandhi's sons who died in an air crash in 1980. Rahul and Priyanka are children of the elder son and former prime minister Rajiv Gandhi, who was assassinated by a Tamil suicide bomber in 1991.
Varun's mother Maneka fell out with Indira Gandhi soon after her husband's death and later was a minister in a BJP government.
Don't miss the stories
followIndiaVision India News & Information
and let's be smart!