Will brook no anarchy within Shiv Sena: Uddhav Thackeray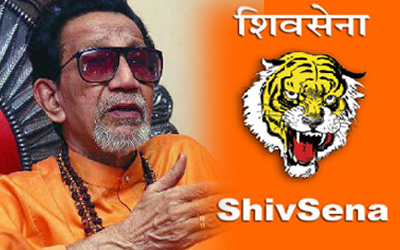 Will brook no anarchy within Shiv Sena: Uddhav Thackeray
Shiv Sena's Dusshera rally turns out to be a virtual boot for its veteran leader Manohar Joshi as party activists boo him out.
The Shiv Sena's Dusshera rally, which traditionally focused on its rivals, on Sunday turned into a raucous event as angry party workers booed away Manohar Joshi, one of its tallest leaders, after his recent criticism of the party chief.
For Joshi, who was the party's mayor in Mumbai, state chief minister and then the Lok Sabha speaker, it was a sad exit from the Shivaji Park venue of the rally.
For his influence he was regarded as the right-hand man of the party supremo late Bal Thackeray. But on Sunday evening he was hounded by Shiv Sainiks who shouted "Manohar Joshi hai hai".
Joshi arrived at Shivaji Park at about 7.40pm and was welcomed on the dais by party executive president Uddhav Thackeray. Almost immediately the shouts began. "Manohar Joshi murdabad," and "Manohar Joshi chale jao". The party's farmer leader Laxmanrao Wadle was addressing the gathering. Even as Uddhav waved to try and quiten the slogan shouters, they would not stop. In less than 10 minutes a visibly shaken Joshi got up and left.
Last week, Joshi was quoted in newspaper reports as saying that the party leadership was weak. The leader, who is believed to have been uneasy at being sidelined, said he missed the fiery leadership of Bal Thackeray and that Uddhav was following the rules laid down by the state's Congress chief minister.
Sources close to Joshi said on Sunday night that the leader felt he had been misunderstood. On the verge of tears, he affirmed he was very much a Shiv Sainik.
If the public humiliation of Joshi  was not enough, Uddhav in his speech rubbed salt in the wounds. "As long as I am the party chief I will not brook anarchy in the Shiv Sena. If I have to bow down to any pressure, it will be that of Shiv Sainiks and not of anyone else," the otherwise genial and mild Thackeray thundered. "It is your right to decide who will lead the Shiv Sena. If you have no faith in me, I will not remain as the party president," he said.
Sena activists said though Joshi was seen as more of a businessman than a politician, whose base on his home turf in Dadar had weakened, the episode is indicative of the unease within the party a year after the death of its founder.
In an apparent response to Joshi's criticism, Uddhav attacked the chief minister for his slow pace in decision making. He underlined the party's Hindutva plank, Uddhav, who also inducted Harshavardhan Jadhav, MNS MLA from Kannad, Aurangabad, in the party, declared his support for the BJP's prime ministerial nominee Narendra Modi.
Don't miss the stories
followIndiaVision News & Information
and let's be smart!