It will be 'good to meet' Narendra Modi, says Cameron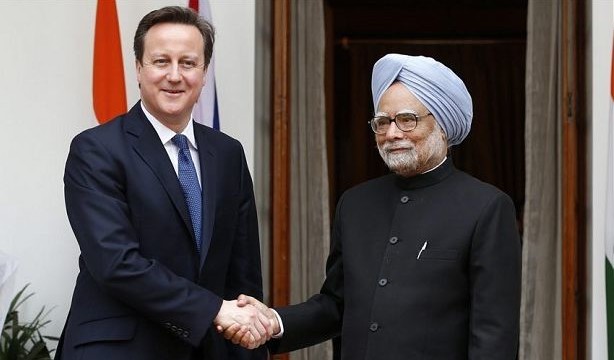 It will be 'good to meet' Narendra Modi, says Cameron
British Prime Minister David Cameron is open to meeting Gujarat Chief Minister Narendra Modi and said he will do so in time while his government goes ahead with steps to engage with him and his government.
"We have started a proper engagement with Gujarat and with the First (Chief) Minister there. Our Foreign Office Minister has met with him… The connection is there, the engagement is there. I think the engagement should continue," he said at an interaction with Indian businessmen here on Thursday.
Mr. Cameron, on a short visit to India ahead of the CHOGM meeting in Colombo, also met Prime Minister Manmohan Singh and held consultations with him on improving bilateral and trade ties between the two nations.
Asked if he would like to meet Mr. Modi in the near future, Mr. Cameron said, "In time, yes. It's good to meet. We have an approach of meeting all politicians and leaders. In the end, it will be for the people of India whom to elect. But I'm open to meeting elected leaders."
The British Prime Minister will be meeting West Bengal Chief Minister Mamata Banerjee later in the day when he visits Kolkata for the first time ever.
"This is, I said, a short visit, so this is a government to government visit to India where my first priority is to come and see your Prime Minister. Kolkata is a city I've never been to before… I'm looking forward to the visit," he said.
Mr. Cameron, who is visiting India for the third time in as many as years, favoured more meetings and informal discussions with the Indian Prime Minister and said there is a lot in common between India and Britain and the two were good trade partners as well.
"We are one of the oldest democracies… We both have challenges to fight terrorism and we both want to be successes in this global economic race that we are engaged in. We have ties of the past — the history, the language and the culture.
But it is the future that excites me, on what Britain and India can do together," he said.
Mr. Cameron met Prime Minister Singh later in the day and discussed matters of bilateral interest relations and other issues.
Don't miss the stories
followIndiaVision India News & Information
and let's be smart!